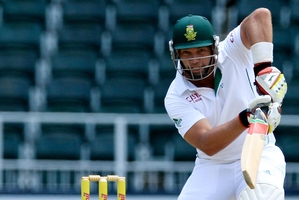 It is not good fortune that allowed South Africa's Jacques Kallis - who will end his test career this week - to become, arguably, the greatest all-round cricketer in the game.
Back in 1997, when he played for Middlesex, his work ethic and discipline were notable for a young man. After training, when the rest of us were debating where to play golf in the afternoon, Jacques would go to the gym. On team nights out he was always responsible too, returning to his bed much earlier than most of us.
It is for his brilliance with the bat Jacques will be remembered most. The appetite to spend time at the crease and enjoy batting for the sake of the challenges presented was there from the start. To him run-scoring was a by-product of perfecting the art of batting.
I first became aware of Jacques' talent on England's 1995-96 tour of South Africa, when he scored 93 playing for South Africa A in Kimberley.
As with many Kallis innings there was nothing flashy to make his performance stand out.
What you did feel, however, was that you were bowling against a player as calm and unemotional as a brick wall.
Much was made of Kevin Pietersen's dexterity when he reverse swept Muttiah Muralitharan for six at Edgbaston in 2006, and quite rightly so as it was a remarkable stroke. Yet Jacques was playing shots of such calibre in 1997.
On two occasions during a limited-over hundred against Gloucestershire, he reverse swept a spinner out of the ground. Jacques, when required, could turn up the tempo of an innings but he preferred to do so when percentages were in his favour.
A tale highlighting the extent of his batting skills came from a South Africa team meeting when the discussion turned to playing Muralitharan effectively. Jacques suggested that the Sri Lankan spinner enjoyed bowling at the same batsman over after over and the best way to disrupt his rhythm was to rotate the strike.
Jacques suggested the easiest way to do it was by playing Muralitharan with the inside half of the bat. If you do this, he said, the ball will roll safely to the vacant square-leg region for a single. Apparently his team-mates, who had been struggling to get any part of their bats on Muralitharan's bowling, just looked at him with total disbelief. He was playing a completely different game to the rest of them.
Jacques has always been a reluctant bowler, which is understandable because it hurts the body. When he was with Middlesex the South African selectors protected him by stating that he should not be over-bowled in first-class cricket. When he did bowl, he tended to make an impact. Commentators and journalists have continually referred to him as a medium-pacer, which for me is a remarkable misjudgment. When the mood was right, Jacques could bowl genuinely fast. In fact, he could bowl rockets and on a number of occasions during tests England's batsmen insisted he was quicker than Allan Donald. To complete the true all-round nature of Jacques cricket consider his fielding, which, surprise, surprise, was outstanding too. Cricket followers of an older generation will never accept there has been a better all-round cricketer than Sir Garfield Sobers. As with Kallis, Sobers' record is phenomenal and he uniquely split his bowling duties between fast and spin.
Sobers was a natural. He played with freedom and his cricket had the potential to be swashbuckling. He epitomised calypso cricket and seemed to have a permanent smile on his face. Sobers was a character off the field too. You did not get the impression cricket got in the way of his social life.
Jacques, in contrast, is the epitome of a modern cricketer, in that his life to date has virtually been devoted to the game. The lifestyle may not be as glamorous as that of the great West Indian but the intensity, scrutiny and expectation of modern sport does not allow such freedom. Jacques benefited from the support structures that are now common practice and it is through committing to these that he has been able to extend his career to a remarkable 166 tests.
If Kallis is not the best all-rounder cricket has seen, then Sobers must have been an even better cricketer than my father said he was. Replacing Sachin Tendulkar will seem easy compared to the challenge of finding a new Kallis. Good luck South Africa.
- Independent