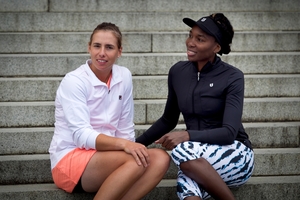 If Venus Williams is a coup for the ASB Classic this year, imagine if her "little sister" joins her in Auckland in 2015.
Williams, who drew a large crowd to an exhibition hit-out with Marina Erakovic at the Auckland Museum yesterday, indicated she would try to persuade Serena to make the trip.
"I definitely will," said Venus.
"I feel like I am obliged now to tell her how great it is out here. It would be great to come out here and play together."
The duo have faced each other in eight grand slam finals. They won 13 majors as a doubles combination, and Venus hopes she still has some sway.
"I have a little bit of influence, being the older sister," says Venus. "But she still does what she wants to do - so if she doesn't come, don't blame me but I will tell her it is a great place to be."
For now the focus is on the elder Williams. She is a genuine legend of the sport, with numbers impressive from any angle. Seven grand slam titles and 44 tournament wins overall.
More than $35 million in prize money and, for a period in the last decade, she was unbeatable, winning 35 consecutive matches and six successive tournaments.
"Venus [and Serena] created a new era in women's tennis," says 2011 ASB Classic semifinalist Julia Goerges. "They started serving very fast and hitting the ball very aggressively. Overall tennis is much, much better, fitness-wise [and] playing-wise."
But that was yesterday; next year will mark her 20th year on the WTA tour. Williams hasn't won a grand slam since 2008 (Wimbledon) and was last in a major final in 2009, also in London. She comes into tomorrow's tournament ranked 47 in the world after she was restricted to just 11 tournaments in 2013. The 33-year-old was diagnosed with Sjogren's syndrome (an auto immune disorder) in 2011, which saw her leave the tour for seven months.
"I've learned a lot," says Williams. "There is no manual on how to be a professional athlete with an auto immune disease. It is something that I have tried to make into a positive in my life. It's kept me going. I've been through this and never gave up so obviously I want to keep going."
Williams hasn't been in the top 10 since 2010 but is positive she has still got what it takes: "I'm always trying to improve my game; that is the point of being out here and being professional. If you don't [try to improve], you are going to get left behind. My motto is 'update, don't be late'.
"I have some goals but for me it is about playing well [and] every match leads to the next match. In my career, a lot of the losses have been important too because I learned a lot from those losses and they made me better. So, yeah, I want to win majors and I might have some losses but I will learn and it builds character."
Venus still has a big serve - and is a great mover - with a solid, reliable backhand and a crunching, powerful forehand. She is confident after the best off season she can remember and will be a dangerous floater in this week's tournament.
"I've had a nice break - it's been great," says Williams. "Now I need to get fired up and get the engine started again. Those two [top] seeds (Roberta Vinci, world No.14 and Ana Ivanovic, No.16) are playing well. I'm happy they are here; it gives me a chance to play them and maybe get my game on par."
She doesn't countenance talk of retirement - "I love tennis, I love the game and I'm still pretty good" - but when she eventually does, Williams is unlikely to get involved in coaching. A legion of former male grand slam winners (Ivan Lendl, Boris Becker and most recently Stefan Edberg) have taken on star pupils but Williams says a high-profile off-court role is unlikely.
"I'm not sure - you have to choose for yourself what you like to do in life," says Williams. "When you have been playing tennis since you were 4 years old, by the time you are in your 30s it's like, 'okay I've had enough travelling'. Maybe I would like to help young kids on the side somewhere in my home town when I am done playing - but I will think about that when it happens. I do other things off the court and I will probably pursue that."
Among her other pursuits, she (and Serena) is a proud part-owner of the Miami Dolphins, currently battling for an NFL finals position.
"It's awesome being an owner," says Williams. "This [Monday] if we win we are going to the play-offs - the [other] night I dreamed we won ... I love it, I love [being involved]."
In her debut appearance in Auckland, Williams assures that though this is a small tournament compared to the grand stages she has been on, she is focused and motivated.
"Everything is serious for me," says Williams. "I'm here and I'm a professional - it is all about being professional all week. When I am off the court I am off the court; when I am on the court I am 100,000 per cent. No matter what the tournament is I'm here to get a win."