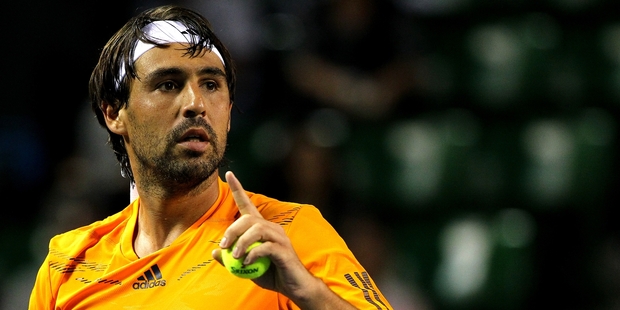 Whatever happens with Marcos Baghdatis next week at the Heineken Open, entertainment is almost guaranteed.
Like fellow wildcard Gael Monfils, Baghdatis is one of the showmen of the sport. Whether he is playing one of his trademark forehands on the run, or celebrating a winning shot in his exuberant style, Baghdatis tends to thrill crowds around the world.
He has also had moments of meltdown, most spectacularly at last year's Australian Open when he smashed four racquets in a 40s frenzy during a second round match against Stanislas Wawrinka. Two of the racquets were still in their plastic wrapping and even the umpire, while issuing a code violation, struggled to maintain a stern look.
Commentator Todd Woodbridge described it as "one of the best [racquet smashes] I've seen."
That incident drew worldwide attention - and millions of YouTube views - but didn't markedly affect Baghdatis's popularity or status in the tennis world.
The world No.87 will be one of the dangerous floaters in the draw next week. After being ranked as high as No.8 in the world, Baghdatis is on the comeback trail, starting in Auckland next week.
Baghdatis has played the Heineken Open once before, in 2006. It wasn't a memorable trip to the Queen City - he lost in the first round against eventual champion Jarkko Nieminen - but it became a springboard to a spectacular fortnight. At that year's Australian Open, he became the story. In just his second appearance at Melbourne, Baghdatis progressed through the first week then took down world No.3 Andy Roddick in the fourth round, before dispatching another top 10 player (Croatia's Ivan Ljubicic) in a five-set battle.
Baghdatis, with massive support from Melbourne's large Greek and Cypriot community then faced David Nalbandian in the semifinal. Through two rain delays, an Australia Day fireworks display and injuries to both players, Baghdatis rallied from two sets down and a 0-2 deficit in the fifth set to beat the world No.4 3-6, 5-7, 6-3, 6-4, 6-4 in an epic 207-minute match.
The Cyprus Government immediately flew his parents to Melbourne and his exploits also gained Baghdatis an exemption from compulsory military service, so he could focus on tennis.
"I warmly congratulate our compatriot for his impressive advance to the Australian Open final," proclaimed Cyprus President Tassos Papadopoulos. "His fighting spirit, patience, strength of character with which he competed provides a shining example for all those young men and women of our country."
In the final, against Roger Federer at his peak, he won the first set and took an early lead in the second before losing in four sets over almost three hours.
"As you can imagine that was a huge change in my life," Baghdatis told the Herald on Sunday. "I became famous and I had a lot of friends all of a sudden. Probably the nicest thing was that I became a role model for young kids in Cyprus. I was really proud of that because more kids started playing sports and especially tennis in Cyprus."
His was an unlikely rise. He followed his two brothers - who both played Davis Cup - into the sport and by the age of 13 the talented teen had left the Mediterranean island, sent to live, train and play at the Mauratoglu academy in Paris. It was difficult - he didn't speak a word of French and was incredibly homesick - but the drastic move was justified when he was crowned ITF Junior World Champion in 2003.
Success followed quickly at senior level, though from 2007 his career has been blighted by injuries and inconsistency. There have still been some highs (including being the only man to defeat world No.1s Roger Federer and Rafa Nadal in 2010; tournament wins in Stockholm and Sydney) but he hasn't been inside the top 20 since February 2011.
There were signs of a resurgence during the North American swing last year, when he reached the quarter-finals in Washington and had a career-best performance (third round) at the US Open.
Since last year, the 28-year-old has embarked on a new fitness and dietary regime, determined to maximise the twilight of his career.
"[2013] was a pretty tough year for me," says Baghdatis. "I had a six-month period when I was struggling with injuries, but towards the end of the year and especially at the US Open, I started playing some good tennis. I am very confident that I can get back to the top 20 and that is my goal for next year. I need to continue working and playing the way I did in the last few months of the year."
After his swift visit last time - he arrived late after a deep run in the preceding tournament and then suffered a first-round loss - Baghdatis has no particular plans for sightseeing in Auckland.
"I guess I am like an ordinary tennis player in some ways," says Baghdatis. "Most probably [I will] go to some nice restaurants with my team for dinner. I [also] hope that the tournament will arrange a nice activity for me to do."