NZ need to deliver consistently, writes Andrew Alderson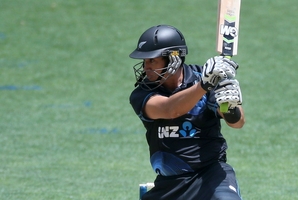 Step back and survey the New Zealand cricket team in its three guises - test, one-day and twenty20.
The test team dominated a weak West Indies but that form was rescinded in the opening ODI. No need to panic - this has been de rigueur across 2013, not to mention most of New Zealand cricket's modern history. Performances have been fickle since the country entered the international game in 1930. Sustained periods of success (the 1980s and 1999-2004) are exceptions; boom-and-bust is the rule. The team are judged accordingly, often oscillating between heroes and villains several times a year.
Take this year as an example. Test hidings from world No.1 South Africa after the odious captaincy saga were followed by a courageous ODI series victory. Vast improvements came in the drawn home test series against England, tempered by batting collapses away at Lord's and Headingley. Another ODI series victory came in England followed by a rain-affected Champions Trophy where they missed the semifinals.
A lost ODI series in Bangladesh and drawn tests failed to inspire, nor did the rain-affected limited overs series in Sri Lanka - yet the team justifiably enter 2014 upbeat after conquering the West Indies 2-0 across three tests.
They lost four of six away tests to South Africa and England before drawing two with Bangladesh. At home they drew four (three versus England, one versus West Indies) and won two (versus West Indies). In one-dayers they won seven and lost 10, ahead of today's match in Napier. In T20s they won three and lost three. It left the impression of a team surviving rather than succeeding.
For the Mike Hesson-Brendon McCullum era to be judged a success, fans have to look probably to the end of 2015. Let's not get myopic about the World Cup; a semifinal or better performance would do wonders for the cricketing morale, a la 1992, but it cannot become an obsession at the expense of test results.
Between now and December 2015, the International Cricket Council's Future Tours Programme has New Zealand pencilled in for test series away against the West Indies, Pakistan, England, Sri Lanka, Zimbabwe and Australia. Victories in three of those would constitute success because they'd have exercised dominance beyond their back yard.
The key is personnel. At no time from here until December 2015 should the term 're-building' enter New Zealand Cricket's lexicon. All the formats are filled by established internationals, many youthful.
The key component of consistent selection is Bruce Edgar's general manager role. So far he has employed a logical policy in combination with Hesson's meritocracy. Edgar insisted McCullum and Taylor come home for red ball practice rather than play limited overs matches in Sri Lanka. The punt collected. If New Zealand are to eradicate their 'easy-beat' reputation, Edgar is integral to the solution.
In 2013, a 'core four' emerged in the test game. Ross Taylor (866 runs at 72.16), Kane Williamson (747 at 41.50), Trent Boult (46 wickets at 25.08) and Tim Southee (36 wickets at 24.94) starred.
Taylor's three centuries in consecutive tests against the West Indies, Williamson's consistency passing 40 in 10 of his 19 innings, Boult and Southee's 10-wicket bags at the Basin Reserve and Lord's respectively were highlights.
Taylor has shown unparalleled self-belief post-captaincy and thanked the mental conditioning work of Gilbert Enoka and Gary Hermansson. Williamson has a clockface of strokes but his defence is the cornerstone of a successful test game. Boult and Southee, despite lacking regular 140km/h-plus speed, are intelligent bowlers who identify and seize on batting weaknesses; they've been helped by Shane Bond, a mentor familiar with the test fray.
With support from their team-mates, the quartet can re-ignite the country's test prowess enjoyed under Sir Richard Hadlee and Martin Crowe in the 1980s. The 2-0 series win over the West Indies was an example - other team members supplemented the "core four" with significant runs, wickets, catches or run outs.
Similarly, Martin Guptill and Mitchell McClenaghan lead the limited overs contingent. Guptill's consecutive ODI centuries against England, including 189 not out at Southampton (the highest score by a New Zealander), demonstrated his capability. He tops the 2013 batting averages with 50.75 in 11 ODIs, and 50 from three T20s.
McCullum gave McClenaghan free licence with the new white ball and so far in his debut year he has obliged with 40 wickets in 15 ODIs at 19.02. He's taken 17 more than the next most effective bowler, Kyle Mills. McClenaghan also topped the wicket charts in T20s with seven at 29.85 from seven matches.
The biggest question mark surrounds Jesse Ryder. His performance across the West Indies series intrigues. He suffered a five-ball duck at Eden Park but, in an upbeat team environment and with the likes of Guptill, Williamson and Taylor for top order support, Ryder could become the 2015 World Cup equivalent of Mark Greatbatch in 1992 ... if he wants it enough.
The XI which played the West Indies on Boxing Day are a blueprint of the side, fitness permitting, which will represent New Zealand at the World Cup. A fit Southee or Daniel Vettori would challenge for a spot while squad members Colin Munro and Adam Milne along with BJ Watling, Trent Boult and Hamish Rutherford would push from the periphery.
Vettori remains a fitness concern. He played three matches at the Champions Trophy but had surgery on an Achilles tendon in a bid to prolong his career until the World Cup. As Vettori struggled, the focus went on his successors. Ish Sodhi has a test future, despite his 11 wickets coming at 51.45.
Even Shane Warne, who Sodhi is meeting at the Ashes test this week, started slow. The 21-year-old's googly and top-spinner were effective against the West Indies.
Nathan McCullum and Williamson look to be the limited overs spin options if Vettori is out indefinitely.
Leading batsman Darren Bravo has left the West Indies tour for "personal reasons". No other explanation has been given.