McClenaghan on track to be the fastest bowler to 50 wickets in the world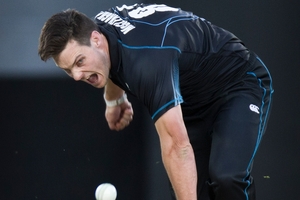 Mitchell McClenaghan is within reach of a remarkable world ODI record - provided he has a cracking next three matches against the West Indies.
The powerfully built lefthander's best ODI haul, five for 58 at Eden Park on Thursday night, didn't carry New Zealand to a win - the West Indies got home by two wickets - but his return maintained a fabulous one-day record since his debut against South Africa in Paarl last January.
McClenaghan has taken 40 wickets in 15 matches, at a 19.02 average.
If he can nab 10 more wickets at Napier tomorrow, Queenstown on New Year's Day and Nelson in its ODI debut on January 4, McClenaghan will have become the fastest bowler to 50 ODI wickets.
Sri Lankan spinner Ajantha Mendis holds the mark at 19 games.
In his 18th game, McClenaghan would easily beat Shane Bond, who took 27 games.
The Auckland quick has a specific role in the bowling group. While others need to take care with the runs they're conceding, McClenaghan's brief is distinctly different.
Put simply, it's get wickets and - within reason - hang the runs.
"Brendon [captain McCullum] gives me the same role no matter what we're chasing," McClenaghan said.
"He winds me up and lets loose, don't worry how many runs you go for, just take poles [wickets]. The mentality is the same for me every game."
McCullum and McClenaghan both know it's a risk and reward game.
While other bowlers restrict the opposition batsmen, McClenaghan is given licence to attack.
It's a strategy that can cost runs, but a glance at his record suggests it has been well worth it.
McClenaghan, at 27 a relative late bloomer in the national team, has taken four wickets in an ODI innings four times.
On each occasion he dismissed at least one opener cheaply - South Africa's Graeme Smith, England's Alastair Cook, Sri Lankan blaster Tillekaratne Dilshan, Australian Shane Watson and, on Thursday, he ripped out four West Indians in the space of 27 balls.
"Mitch was outstanding," McCullum said of Thursday night's effort, in which McClenaghan had the ball hooping around impressively, an effort only marred by Darren Sammy clouting 10 in his final two deliveries to seal the West Indies win.
"When he first came into the team the message was very strong - and also from his captain when he's bowling - that he's a point of difference for us. He's an aggressive, hostile bowler," McCullum said.
McClenaghan reckons the only other time the ball was coming out as sweetly as Thursday night was on debut in Paarl, when he took four for 20 in 10 overs to help set up a one-wicket win.
He's thriving on the support from above.
"The confidence Brendon gives me, and knowing how much he and [coach] Mike Hesson back me, just means I can go out and play without fear.
"It makes the game so much easier when the only pressure is from yourself."
McClenaghan's philosophy on run concession is straightforward.
"I come hard and the only way to fight fire is with fire. The batsmen are going to come hard at me to try and put me off my game.
"It doesn't really bother me too much as long as I keep taking wickets. If I stop taking them that's when I have to look at myself."
McClenaghan isn't a sure thing for the World Cup, which is just over a year away, but he's doing his level best to lock his name in.
"A lot of things can happen between now and then.
"The best thing is in all forms of the game we've got a very competitive bowling unit. That means as a bowler you can't go out and have an off game. You can't take anything for granted."