Sports people will continue to amaze and surprise next year - sometimes for the oddest reasons
Lydia Ko v the world
An unusual swing hit the teenage golf sensation from North Harbour in the form of negative publicity when her longstanding coach Guy Wilson got the bullet. Ko continued to set amazing standards in 2013, not the least of which was becoming a lead news item over the coaching drama. This is All Blacks territory. Her first full year as a professional will be fascinating.
Lauren Boyle v Katie Ledecky
The August Pan Pac swimming champs on Australia's Gold Coast will be a chance to celebrate our fabulous freestyler Lauren Boyle. It will be a rare occasion on which the Whenuapai swimmer, with three world championship bronze medals tucked in the drawer, competes at a major event close to home. Boyle will have her work cut out against the amazing American teenager Katie Ledecky. On 2013 form, Boyle will be about the only competitor capable of giving Ledecky some kind of swim for her money in the distance freestyle events.

Speedway v the dollar signs
The opening round of the world FIM Speedway GP returns to Auckland for a third and probably final time, unless the public votes otherwise. Promoter Bill Buckley has lost well over a million dollars on the first two years of his speedway bike contract. The trend isn't good either - the first contest drew a 14,000 crowd to Western Springs, but that dropped to barely 10,000 in 2013 in part because competing motor racing events took a toll. Buckley's main competitor on April 5 will be the Rolling Stones concert at Mt Smart Stadium. This year's speedway GP will be held at night and a crowd of at least 25,000 is needed to ensure Auckland continues as a venue for the world championship race. Buckley is confident Wild Horses won't drag too many people away but the Auckland GP is on its last legs given his massive financial losses.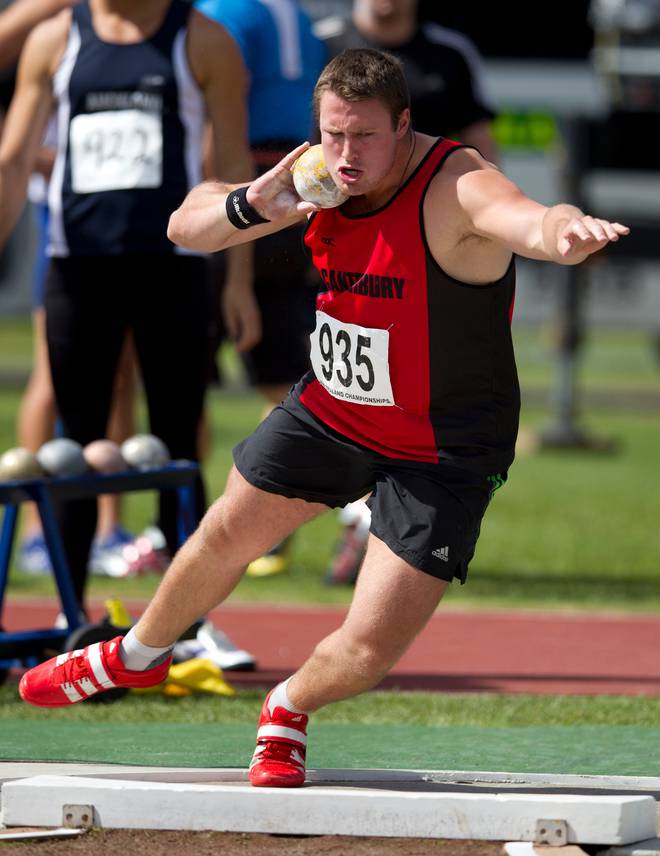 Tom Walsh v Jacko Gill
South Canterbury v North Shore. South Island v North Island. Not since rowing superstars Mahe Drysdale and Rob Waddell went head-to-head for an Olympic spot has there been such potential for an exciting Kiwi v Kiwi duel. And this could go on for a long time, fitness allowing and desire willing. The rising shot put stars are at the foothills of their careers. Attention will focus on the national champs in March and Glasgow Commonwealth Games in July/August.
Roger Federer v wear and tear
This is not a contest any of us have been looking forward to. The glorious and graceful tennis giant had his worst season in 2013 without offering much hope that it will get any better. The Fed has every right to go out any way he wishes, but it would be sad to see the best tennis player ever turn into a stumbling sideshow.
Belgium v the history books
Left field is heavily populated for the mid-year Fifa World Cup in Brazil. Current soccer darlings Belgium are among the most fancied dark horses in the tournament's history, despite recent signs of frailty. The trouble is, fairy tales only go so far in the World Cup. One of the usual suspects always prevails. Vincent Kompany and co will survive a soft pool, but they'll be found wanting when the cynicism kicks in.
Oscar Pistorius v Judgment Day
Stand by for sport's worst murder mayhem since the gloves came off during NFL legend OJ Simpson's infamous defence 20 years ago. One difference is the groundbreaking amputee athlete's trial for the murder of his girlfriend, Reeva Steenkamp, will take place deep into the internet age. This is going to be a ratings phenomenon fired by no-holds-barred reporting which is allowed in the absence of a jury system in South Africa. There are more than 100 witnesses for the prosecution, which makes it difficult to see how the trial in Pretoria will be squeezed into the March 3-20 time frame.
It will be a circus in Pretoria, no doubt about that, and dare we predict that the actual tragedy and Steenkamp's life will get trampled in the pandemonium. Unlike Simpson however, Pistorius' fate will be determined by a single judge, who can be assisted by technical experts.
PremierLeaguePass v Sky
This is another way of saying that our ways of watching sport may take entrenched twists and turns like never before in 2014. Coliseum started the ball rolling by winning the rights to the English Premier League, a move which introduced New Zealanders to a radical way of digesting sport via the internet although technical difficulties have frustrated many. If you can't beat them, join them. Traditional sportscasters Sky had long intended to put coverage on mobile devices and announced this watershed moment late in 2013. Stay tuned. It ain't over yet, because nothing is when it comes to the digital age.
Sam Tomkins v the sales pitch
The Warriors did a fabulous job of pitching English star Tomkins around town in late 2013. Now comes the hard part - on the footy field. The NRL doesn't suffer fools gladly. The problem isn't Tomkins - he could certainly be the real deal. But the wiry playmaker won't amount to much unless the club can fix inherent problems such as defensive weak points.
Chiefs v heightened expectations
It doesn't pay to carry on doubting the Super 15 champions. So at the risk of putting a hex on Dave Rennie's Wonders, let's pick them for the three-peat in rugby's Super competition. They are looking more and more like an unstoppable rugby superpower - even Waikato's old rural rival Taranaki have jumped on board. One of the most interesting facets of the new rugby year will be observing how Rennie and Wayne Smith utilise and prepare Robbie Fruean. The former Crusader, with a new heart valve in place, can add a dollop of decisive power to the Chiefs' campaign.
New Zealand v India
The two-test cricket series is a chance for the New Zealand cricketers to claim a major scalp. The Kiwi medium-fast bowlers are roaring, and the call has gone out for lush pitches to greet the powerful visitors. After a comprehensive win over the West Indies, the grass is finally looking greener on our side of the picket fence. But if all else fails, New Zealand can hope for a spot of luck in the slap and giggle Twenty20 World Cup in Bangladesh come March and April.
All Blacks v the record books
The All Blacks play a three-test home series against England, who will hopefully bring their A game and team while giving the carousing a miss. Next stop Sydney, where if the England series has gone to plan, the All Blacks can break the record of 17 straight victories by a major rugby nation. The World Cup worry warts will be beside themselves should the All Blacks charge through another season unbeaten. Do not fear. If all else fails, a return to Johannesburg in October should sort that out - the Springboks will be gathering for an almighty showdown at Ellis Park after being humbled there in 2013.
Dan Carter v his body
Bits are starting to fall off the great No 10. The 2014 season will be make or break for his World Cup chances.
New Zealand v Kazakhstan
There, that's got your attention. This is one of the pool games for the Black Ferns as they chase a fifth consecutive rugby World Cup title. The August tournament will be held in France - anything to do with the French is not a particularly good World Cup omen for New Zealand rugby.
Sevens v Nines
Rugby v league, in other words. The well established Wellington sevens in early February will face a stiff comparison test from the Auckland NRL nines, which will be held for the first time a week after the rugby event. The rugby tournament has been boosted by sevens' Olympic status, but the nines is the almost certain winner because it is bringing household names to Eden Park. The Warriors will be well placed to bid for the inaugural title with Shaun Johnson and Sam Tomkins made for the new game.
David Moyes v Alex Ferguson
Yes, they are on the same side at Manchester United, but the new manager must step out of the legend's shadow. Failing badly in the Premier League and not qualifying for Europe will turn the screws, no matter how strong the claims that United will persist and give Moyes the chance to be his own man.
Valerie Adams v nobody
It's hard to see anyone getting close to the Kiwi shot put star, who is sitting on 42 consecutive victories.
Sport v corruption
Good luck with that.