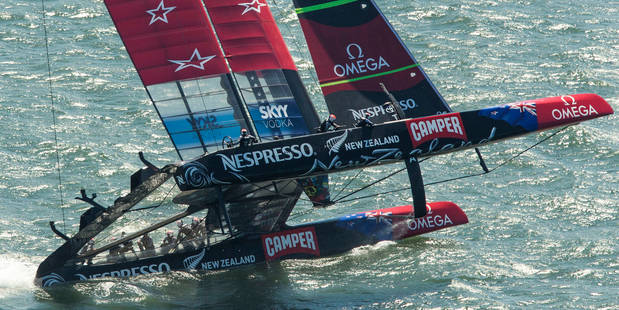 Since the start of the decade, New Zealand has enjoyed some of its best ever years in sport. At a variety of world championships and at the London Olympics, this country has punched well above its weight as its sportsmen and women performed up to and beyond the highest of expectations. This year, however, with the honourable exception of the All Blacks, normal transmission has resumed. High hopes were dashed and in a number of sports this country again found itself playing second fiddle to Australia.
Hopes were never higher than when Team New Zealand was within a race of claiming the America's Cup. In the end, the only solace from a gut-wrenching defeat lay in knowing that interest in yachting's supreme prize had been resuscitated. Team NZ's failure, with those in other sports, left the All Blacks to rescue the year.
They became the first team in the professional era to go through a season undefeated.
An exciting style of play was matched in equal part by resolve and resilience. Highly promising young talent was introduced to the squad in a manner that suggested the build-up to their defence of their World Cup crown was progressing well. The Wallabies, in particular, were well beaten on several occasions. If only the same could be said in several other sports.
In rugby league and netball, national teams could not foot it with their Australian counterparts and there was no joy, either, in transtasman club competitions. Even the Breakers, who had dominated the Australian basketball league for three years, struggled after changes in their coaching and playing staff. Competing in the transtasman leagues again became the slog that has customarily been the lot of New Zealand clubs.
Such was certainly the case for the Wellington Phoenix. Last season's wooden spoon led to a change of coach and a more adventurous playing style but not immediately to better results. But the Phoenix's woes paled besides those of the All Whites. Hopes had been high that they could replicate their excellent fighting displays at soccer's last World Cup. Just about everything went wrong, however. Captain Ryan Nelsen's retirement left a big hole, which was enlarged when his successor, Winston Reid, was injured for the play-off matches. Inadequate lead-up matches proved equally damaging. New Zealand was hammered by Mexico and soon coach Ricki Herbert was gone.
The Black Caps also had little to celebrate. Ross Taylor had just won a test in Sri Lanka when he was dumped as captain. But under Brendon McCullum's leadership, there was not a single test success for a year until the hapless West Indians were beaten twice in a three-test series just before Christmas. Sporadic limited-overs success offered little consolation. Bland pitches became a particular point of contention. At the start of this summer, there were calls from bowling coach Shane Bond and others for more bowler-friendly strips. Not so long ago, the appeals had been for pitches that gave the batsmen a better chance.
Aside from the All Blacks, there were other successes. Lydia Ko made light of her 16 years and amateur status by matching the very best in women's golf, winning back-to-back Canadian Opens in the process. By the year's end, she had won her first professional tournament. Scott Dixon clinched his third IndyCar title after a remarkable comeback. The likes of shot putter Valerie Adams, canoeist Lisa Carrington and the country's highly ranked rowers and yachties also added to their fine reputations at world championship events.
With a Commonwealth Games looming, performances such as these provided plenty of reason for optimism. In sport, a chance for redemption is often just around the corner. Here's hoping 2014 provides just that.