Coach happy to back seamers against India but they could do with a bit of help before pitches flatten out.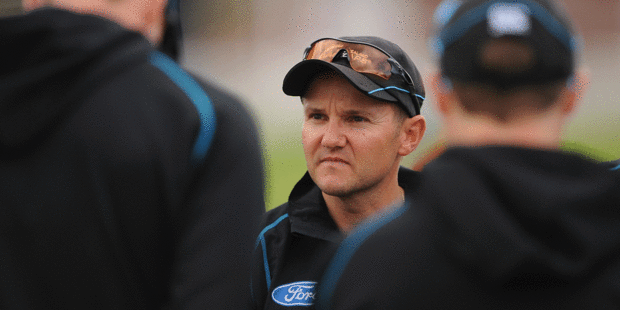 New Zealand will look to roll out the green welcome mat for the two tests against India in February.
At face value, preparing pitches to suit the home team should not be a big deal. Host countries routinely tailor conditions to favour their strengths.
However, New Zealand have at times faced accusations of not doing that, sometimes bending over backwards to co-operate with more influential visiting countries.
The third test pitch at Seddon Park against the West Indies last week had the home players muttering when it began taking considerable spin late on day two. As it happened, New Zealand won by eight wickets inside four days to seal a 2-0 series victory.
India have also been accused of throwing their weight around on at least one previous tour to New Zealand.
In 2002, New Zealand belted the Indians on two green, seaming pitches at the Basin Reserve and Seddon Park. One was over inside three days, the other didn't reach the end of day four.
The Indians, chockful with rich batting talent such as Virendar Sehwag, Rahul Dravid, Sachin Tendulkar, Sourav Ganguly and VVS Laxman were left looking like drunks in the dark fumbling for the light switch.
Shane Bond, Daryl Tuffey and Jacob Oram shared 36 of the 40 wickets as New Zealand romped home by 10 and four wickets respectively, India rolled for 161, 121, 99 and 154.
The financially powerful Indians weren't amused, so when they returned four years ago the word went out: there was to be no repeat of that malarkey. Flat tracks were the order for the tour and India won the series 1-0 amid piles of runs.
Coach Mike Hesson would like both pitches this time - at Eden Park and the Basin - to mirror that used for the innings win in Wellington over the West Indies. It had good grass cover, bounce, pace and some sideways movement without being extreme, and suited Tim Southee and Trent Boult to a tee.
"I think everyone's aware of the type of surfaces we like," Hesson said.
"We've been in India before and they've changed the pitch the day before a game because it wasn't as dry as they'd like. We certainly don't get any favours when we travel overseas, so I'd be disappointed if we provide any at home."
India possess quality seamers in veteran Zaheer Khan and new man Mohammad Shami, who moves the ball both ways and has taken 16 wickets in his first three tests.
However, Hesson is bullish about the abilities of Southee and Boult, who shared 38 of the 60 West Indian wickets that fell in the three-match series which ended on Sunday.
"We'll back our seamers over anyone's at the moment, to be fair," he said. "We know they've got good seamers who will challenge us, but we back our seamers to put any order under pressure."
New Zealand's batsmen are raised in these conditions so Hesson's argument is they should not unduly fear facing the Indians if there is help for the seamers.
Hesson is keen for spin to be taken out of the equation, thus negating the influence of India's impressive Ravi Ashwin and Pragyan Ojha, both ranked in the world's top 10.
The Basin has long had a reputation as a pitch where seamers can prosper if they work hard. Eden Park, with its drop-in surfaces, generally gets good pace and bounce.