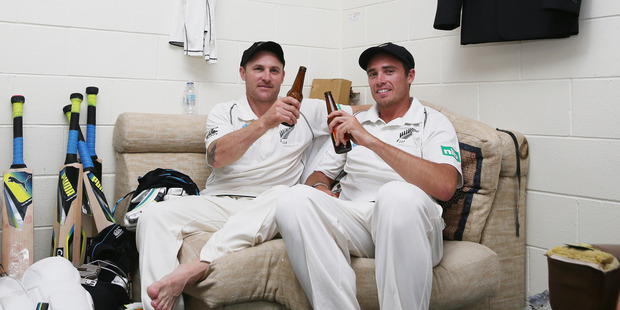 In a word, it's all about length. Tim Southee marks that as the reason for the success of his new ball double act with Trent Boult.
Both are swing bowlers and recognise they need to give the ball time to wobble in the air. They've had an outstanding series against the West Indies and, as Northern Districts teammates and friends, are happy bouncing off each other.
"We've played a lot of cricket together and we seem to be getting better and better as an opening bowling combination," Southee said yesterday. "Trent bowled fantastically well throughout the series and we complement each other well with the left-arm, right-arm.
"It's the lengths that we bowl - we're both swing bowlers and tend to bowl that touch fuller and on [these] wickets ... it's been very rewarding."
Indeed one of the starker differences between the two teams in the test series was the length the opposing new ball bowlers used. The West Indies completely misread the favourable seam bowling conditions in the first two tests, having sent New Zealand in - or they weren't good enough to take advantage of them. By contrast, Southee and Boult barely missed a trick.
"These guys are world class in our conditions and they've also done it in foreign conditions," captain Brendon McCullum said.
Southee joined the 100-test wicket club late in the West Indies' second innings.
The two Indian tests in February will give them their next opportunity and the challenge against that world-class batting ensemble promises to be sterner than the West Indies.
Pitches such as that at the Basin Reserve for the second test would be to New Zealand's liking.
Throw in solid support from Neil Wagner and Corey Anderson and it shapes as an impressive four-strong unit. Boult is up to 10th on the world rankings, while Southee is not far off at No17, both their career highs.
New Zealand's 100 Club
Bowlers with 100 test wickets
Richard Hadlee 431 wickets at 22.29
Dan Vettori 359 at 34.2
Chris Martin 233 at 33.81
Chris Cairns 218 at 29.4
Danny Morrison 160 at 34.68
Lance Cairns 130 at 32.92
Ewen Chatfield 123 at 32.17
Richard Collinge 116 at 29.25
Bruce Taylor 111 at 26.6
John Bracewell 102 at 35.81
Tim Southee 101 at 31.44
Dick Motz 100 at 31.48
Double Act
NZ new ball pair v West Indies
Trent Boult 20 wickets at 15.4
Tim Southee 18 at 18.1