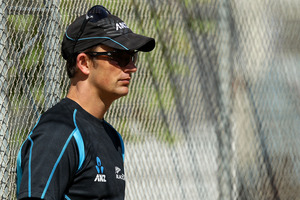 Thirteen months into Shane Bond's tenure as New Zealand bowling coach, the evidence suggests he is making a difference - notably in tests.
Bond has overseen 14 tests since taking the job in November 2012 and nurtured one of the country's better opening partnerships: Tim Southee and Trent Boult.
Chris Martin's exit from the international scene in January could have created a pace bowling void though Boult and Southee were already established. Boult's 20 wickets at 15.40 and Southee's 18 wickets at 18.11 this series showed they have taken up the baton.
Since Bond's arrival, Boult has taken 55 wickets at 23.45 in 14 tests compared to 17 at 36.52 in his previous six. Similarly, Southee has taken 48 wickets at 22.16 in 10 tests compared to 53 at 39.54 in 19 tests pre-Bond. Southee and Boult must get the majority of the credit for that but Bond, New Zealand's best fast bowler PH (Post-Hadlee), is a reassuring mentor.
"Tim is leader of the attack," Bond says. "But I'm pushing him in areas like bowling better with the old ball. His use of the new ball in tests is outstanding.
"Trent is less experienced but performing just as well. He has the benefit of being a natural athlete with a big engine. He moves well, is aerobically fit and has a great attitude to training."
Bond tries to play more of a consultative than instructive role. "They're both pretty self-sufficient. I've got to think about how it's best to impart my knowledge because they benefit most from actually playing. That means most of my input is mental or tactical and ensuring they're not slipping into bad habits.
"Sometimes when players come into international cricket they shrink their games down and only go for what they know, like bowling yorkers or whacking it down the [off stump] channel, because domestically that works. At test level you've got to be more aggressive such as bowling bouncers. I talk them through that.
"If they get bashed about or pick up an injury niggle I can relate to it - that's an advantage of having played at this level. You know what it's like to have a poor day. There's no point getting wound up about it and asking 'why did it happen?' I find the more you know guys off the park, the quicker you pick up on subtle things like body language to help them out."
The 13 months have not been without drawbacks. They have bowled sides out just five times in 14 tests. The third pace bowler spot also remains a work-in-progress.
Neil Wagner has improved since overtaking Doug Bracewell. When Bond took over, Wagner had four wickets at 52.25, albeit in just two tests. He's since taken 35 wickets at 36.31. Conversely Bracewell has struggled. Pre-Bond, he'd taken 40 wickets at 28.02 but cut his foot in the build-up to March's opening test against England to give Wagner another chance. Bracewell has taken 10 wickets at 69.20 in seven tests since Bond joined.
Bond says Bracewell is worth persevering with: "I thought Doug bowled pretty well in Bangladesh [during the recent tests] but didn't have any luck with a couple of dropped catches. He also had a solid 'A' tour to the sub-continent."
Bond is happy to offer advice to legspinner Ish Sodhi and stays in contact with Dan Vettori on his comeback but is happy to defer in expertise to former team-mate and test spinner Paul Wiseman who has been working with the team since the England tour.
"I've got no problem if the guys talk to anyone else about their bowling. With Ish, I just offer ideas and tactics because I'm still learning a lot about spin bowling.
"For Dan, it's more about not hurrying back. He'll be better for playing plenty of four-day cricket and a spell in Australia [with the Brisbane Heat in the Big Bash]."
As a family man, the coaching job has left Bond less time with wife Tracey and their children Katie, Hayley and Ryan. He says the 2015 World Cup will be a logical point to reassess his future.