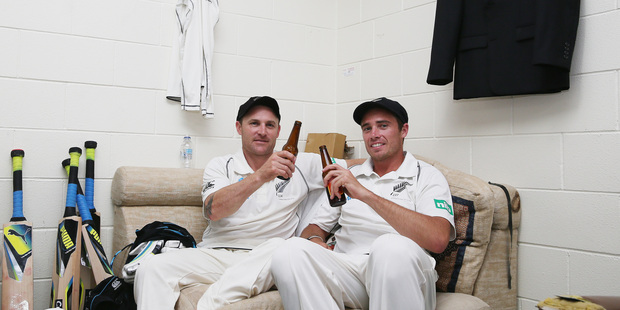 New Zealand captain Brendon McCullum's admitted making the wrong toss decision in the third cricket test against the West Indies but has paid tribute to the brilliance of his three core players - Ross Taylor, Trent Boult and Tim Southee - in delivering an eight-wicket victory.
The result is New Zealand's first win in a three-test series in eight seasons.
"I didn't expect it to end so quickly but I'm incredibly pleased with our effort," McCullum said. "In hindsight we should have batted first. We misread the wicket and obviously when we saw it turning and bouncing there was a bit of concern - thankfully we got close to their score with Ross playing another world-class innings.
"I think that was the best out of his three [centuries for the series] because it was such tough examination from Sunil [Narine] in particular. That probably gave us momentum and belief we were in the game. We didn't envisage chasing 122.
"If he was to retire now he'd go down as one of our all-time greats."
When asked whether Boult and Southee are the best New Zealand opening combination in his 11 seasons as a test cricketer, McCullum was diplomatic.
"I've probably got more appreciation of it now, as captain rather than just keeper, about what you ask of them and what they deliver. These guys are world-class in our conditions and they've also done it in foreign conditions. When they bowl together their efforts are world-class. I don't like to throw those terms around but their numbers are starting to prove it.
"I also think they are ably supported - Neil Wagner has been outstanding, he's happy with that third-seamer role which includes a lot of overs to give them a rest. Those overs are hostile as well. We've also seen Corey has the ability to bowl some magic deliveries and is economical."
Southee said there's a simple answer to the pair's success which has seen them take 18 wickets at 18.11 and 20 wickets at 15.40 in this series, respectively.
"I think it's the lengths we bowl - we're both swing bowlers and tend to bowl a touch fuller. On the wickets they've produced for this series it's been rewarding."
Perhaps not all the wickets. McCullum and Southee both expressed disappointment with the Seddon Park pitch.
"Preferably we don't want something similar to this [for the India series]," McCullum said.
"That's probably why this win is satisfying as well. I don't think we'd turn up in Kolkata and get a green one so I'd hope when India turn up we don't give them a spinning one."
"Yeah - maybe not this one," Southee said when asked for his Indian series preference.
"But we got out of here with a test win on a tougher wicket than we faced in the first two tests. The wickets generally didn't go sideways or do anything silly; they just had a little more pace and enough movement to assist our side."
SCOREBOARD