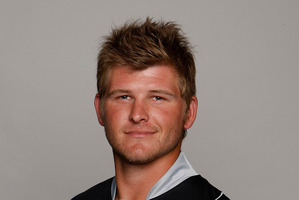 Corey Anderson is living the dream.
At 23, he's making his way through the early days of what he hopes will be a long and fruitful international career.
What's more, he's one of the relatively rare group of cricketers who have considerable facility with bat and ball.
Anderson has already scored one test century, in Bangladesh in October, and displays plenty of punch in his strokeplay. He is chipping in with his share of wickets with his lively left-armers.
Yesterday he was New Zealand's best bowler, taking three West Indian wickets for 25 runs off 14 mainly well-directed overs.
"It's my dream to do what I am doing at the moment," said Anderson, who cited Chris Cairns as an early influence.
"I looked up to him in a massive way. I guess I wanted to do everything. I can't say I based my game on him, but always loved watching him play."
Cairns was a fine international allrounder. But how to rate those gifted individuals who can do it all?
Among New Zealanders, there have been four top-class allrounders - Cairns, Richard Hadlee and Dan Vettori, and from an earlier era, John R. Reid, who batted with bullish intent, bowled aggressive medium pace and even kept wicket in a test.
There have been others, such as John Bracewell, Jeremy Coney, Bruce Taylor and Nathan Astle, who were distinctly handy at the second string to their bow.
Left arm spinner Vettori is possibly the most interesting of them, for he began his career as a No11 batsman. In time he batted at No6, has hit six centuries, averages 30.25 and only Hadlee's 431 wickets stand above his 359 at 34.2.
In earlier eras, when tests were far fewer than now, it has to be taken as read the likes of Australian Monty Noble and Englishman Wilfred Rhodes - whose test career spanned a staggering 31 years - were outstanding allround operators of their time.
The debonair Keith Miller of the immediate post-World War II years, and possibly the most charismatic of all Australian cricketers, must be among the finest of the allround men.
This list is about allrounders who bat and bowl, as distinct from those who, say, bat and keep wicket with extreme proficiency, or are rated as allrounders for their fielding prowess.
One criteria often cited as a key in any assessment of the relative merits of these players is that the batting average must be superior to the bowling numbers.
Two players stand supreme, Garry Sobers and Jacques Kallis.
Sobers has generally held sway on the score of possessing supreme gifts; Kallis has the numbers, and they have been accumulated over 18 years. That probably does down Kallis' talents, to which can be added fine slip catching, plus the ability to open or be first change with the ball.
Cricket had one golden age for allrounders.
From the mid-1970s to early 1990s, four men bestrode the allround game - England's Ian Botham, New Zealand's Hadlee, Pakistan's Imran Khan and India's Kapil Dev.
All bowled lively seam and swing bowling, with Hadlee taking pride of place with the ball.
All tended to lean towards the aggressive in their batting demeanour, especially Botham and Kapil.
So who was the pick of the quartet? A personal view would lean towards Pakistan's tiger in chief, Imran, who also captained his country in 48 of his 88 tests. In that time his numbers improved significantly, his batting average up to 52.3, his bowling average down to 20.26. He also led Pakistan to their celebrated World Cup victory at Melbourne in 1992.
Two others deserve special mention. Tony Greig was among the most influential figures in world cricket, from his days as England captain, turned Packer man in the years of World Series Cricket to robust commentator until his untimely death a year ago. His numbers are highly impressive and his England days ended in his prime.
The other is South African Shaun Pollock, a top class seam bowler and highly proficient batsman.
They bring to mind the "lost generation" of South Africans, rubbed out by the apartheid years, of whom Eddie Barlow, Mike Proctor and Clive Rice were terrific allrounders.
Barlow, the oldest, played 30 tests, averaging 45 with the bat, taking 40 wickets; Proctor took 41 wickets at 15 in his seven tests but scored few runs; Rice was limited to just three ODIs.