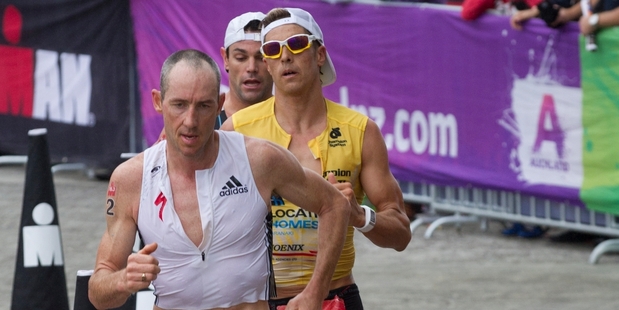 Leading Kiwi triathletes Bevan Docherty and Terenzo Bozzone have confirmed their places in next month's Ironman 70.3 Auckland, which doubles as the Asia Pacific Championship.
They will join 10-time Ironman New Zealand champion Cameron Brown and Australian Christian Kemp, who will defend the title he won early this year in the inaugural event, one of three global continental championships.
The high-profile pair have had opposing fortunes in 2013, with Docherty finishing runner-up in Auckland on his way to two further 70.3 wins in the United States, but failing to finish at the Ironman 70.3 and Ironman World Championships.
Bozzone withdrew on the eve of the race in his home city after crashing into a opening car door on his final ride. The injuries put him out of the race and Ironman New Zealand but his fortunes turned around with nine straight podium finishes, including three wins and runner-ups at the Ironman 70.3 World Championships and ITU Long Distance Worlds.
Docherty, the two-time Olympic medallist, has made a successful move to endurance distances over the past 12 months, racking up three victories, finishing third in the 2012 Ironman 70.3 World Championships and winning on debut at the Kelloggs Ironman New Zealand in Taupo.
He caught a stomach bug and faded at the Ironman 70.3 World Championships in Las Vegas and withdrew on the run in his debut at the Ironman World Championship in Hawaii, when he was unable to keep down any nutrition.
"It certainly wasn't the finish to the season that I had planned," Docherty said. "I was in terrific shape but this endurance stuff, particularly Ironman is new to me. I said when I took it up that it is swim, bike and run but there's a fourth discipline and that is nutrition.
"In Olympic distance racing you just bolt on a drink bottle and that's it. It is part of the learning process and I come into the second year of Ironman racing much wiser and better prepared."
Bozzone, beset by an Achilles injury in 2012, then had his progress stalled by the freak accident before January's inaugural Auckland race.
He rediscovered his mojo in the second half of the season, reeling off three wins in Florida, Mandurah and Shepparton and was never off the podium, highlighted with the outstanding second in Las Vegas.
"You always want more, of course, but to come from the dark place I was in and have such success is rewarding." Bozzone said.
"It really hurt to miss this chance to compete in such a big race in my home city. So I think I will be doing my bike training on an indoor trainer until the race."
The professional field is finalised at the end of the month.