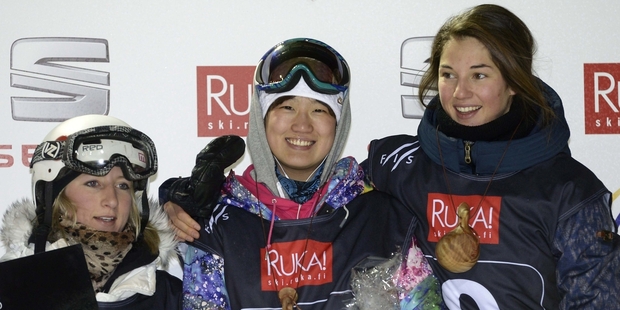 Wanaka snowboarder Rebecca Sinclair has given her qualification prospects for the Sochi Winter Olympics a significant boost at a World Cup event in Ruka, Finland.
Paralympic champion adaptive skier Adam Hall has produced a strong double gold performance at the Nor-Am Cup event in Copper Mountain, Colorado, and freeskier Beau-James Wells took fifth in a top quality event yesterday to round off a strong week for New Zealand's winter sports athletes.
Sinclair won silver in the second halfpipe event on the FIS snowboard World Cup season. She had qualified in first place but was pipped in the final by China's Li Shuang. Shuang recorded 85.75 points to Sinclair's 83.75, with French racer Clemence Grimal third with 67.5.
"It was a tight one," Sinclair's coach Tom Willmott said. "Bex was leading until the second to last run."
Sinclair sat out a large chunk of the last Northern Hemisphere season because of injury, but is a strong chance to qualify for Sochi in February.
She now heads to Copper Mountain, where the New Zealand team will contest freeski and snowboard halfpipe and slopestyle World Cup events from Wednesday until Sunday. They are pivotal for New Zealand athletes' Olympic hopes.
Hall, chasing back-to-back Paralympic golds, won two gold medals in slalom events at the Nor-Am races, to follow silver and bronze medals in Super G events. He pipped Russian Alexey Bugaev in both races, clocking 1min 25.84s, then 1:23.89 for narrow wins over Bugaev.
"It has been a pretty full on week with challenging, cold conditions, though the last two slalom days have been fantastic," Hall said.
"I'm very happy with my overall performance of the week of competition."
Wells finished fifth in the halfpipe finals at the Dew Tour's iON Mountain Championships in Breckenridge, Colorado, yesterday.
"I just put the best run of my life down and ended up in fifth. I'm really happy," Wells said.
The Dew Tour is one of five qualifying events for the US Winter Olympic team, but does not count as an Olympic qualifier for New Zealand. Wells was third until two strong late runs by Americans David Wise and Aaron Blunck dropped him two places.
The final team to represent New Zealand at the 2014 Winter Olympic Games will be announced in January 2014.
The New Zealand men's curling team's Olympic dreams are over. They missed out in the final qualifying tournament in Germany. Needing to win their last two round robin games, and have a favourable result elsewhere, they beat France 8-4 but lost 7-6 to the Czech Republic.