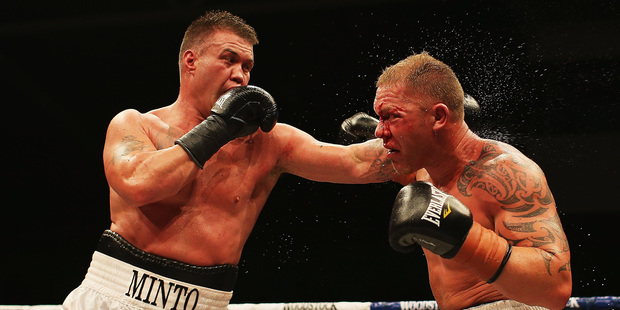 Shane Cameron's professional boxing career is awkwardly poised after a cut ended a storming fight with US heavyweight Brian "The Beast" Minto in the headline bout at the Woodstock Fight For Life last night.
The 38-year-old Minto was always going to be a difficult opponent for Cameron, 36, who had not fought for a year since his world IBO cruiserweight title fight in Australia, where he lost to Danny Green.
There was a lot hinging on this fight for both boxers. Cameron is now New Zealand boxing's senior pro with the retirement of David Tua and the financial potential of a bout between Cameron and rising heavyweight star Joseph Parker has been evident for some time.
With this loss to Minto, Cameron's move back into the ranks of more credible heavyweights has been halted. That may suggest the "Young Pretender" (Parker) versus "Senior Pro" (Cameron) bout may have an even better chance of happening after this loss.
This is not the first time Cameron has been stopped by a cut, this one suffered in round three. It was a typically brave effort by Cameron who fought hard in the next three rounds before the cut intervened, Cameron not coming out for round eight of the scheduled 12-rounder.
Minto is a brawler and puncher and, while at the smaller end of the heavyweight scales, he was clearly the bigger and more powerfully built of the two men. His power opened up the cut and he worked on it hard enough so that Cameron appeared to have difficulty seeing the punches coming at the end.
Minto also badly needed a win. His best-known scalp was that of Axel Schultz, the well-performed German heavyweight who fought world champions George Foreman, Michael Moorer, Wladimir Klitschko and Lennox Lewis' world title challenger, Henry Akinwande. Schultz was 38 at the time Minto met him and had been out of the ring for seven years following his loss to Klitchsko. A strong performance and TKO by Minto sent him immediately back into retirement.
However, that was in 2006 and Minto has since lost five of his last eight fights, some to credentialled boxers. One of those defeats was to serious heavyweight contender Chris Arreola (who fought Vitali Klitschko for the WBC world title in 2009, immediately before his bout with Minto).
So both fighters needed the win to perk up sagging records.
Cameron said before the fight he was under no illusions as to what a loss could do to his aspirations. Talking of his fights with David Tua and Monte Barrett, he said: "Monte hasn't fought since he lost to me. This is a brutal sport that we are in. One punch can change the whole fight. I've had it done to me and I've done it to other people."
There is little doubt Parker is still waiting in the wings. Promoters Duco worked with Cameron's connections to find Minto as an opponent for Fight For Life; they also handle Parker. Parker's trainer Kevin Barry was in Minto's corner for this fight.
Parker's next opponent in March, Brazilian and South American heavyweight champion George Arias, seems tailor-made as a warm-up for Cameron. Like Cameron, the Brazilian is a durable opponent, he's 39, 1.81m and about 100kg - similar dimensions to Cameron.