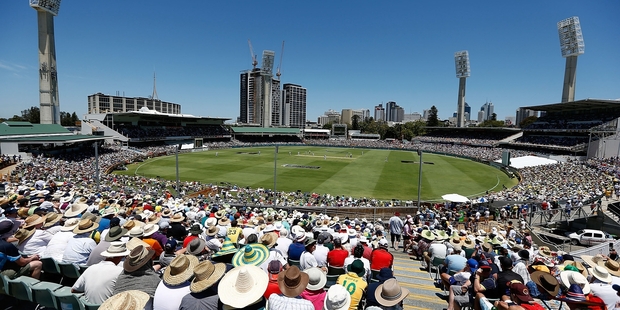 The Waca is the last cricket ground in Australia. That is a patent untruth, of course, since there remain ovals studded around the unlikeliest outback places. But it is the only big-time cricket field still going.
All its eastern cousins - Brisbane, Sydney, Melbourne, Adelaide - enjoy the fortune that Aussie Rules can bring. The Waca is charmingly shabby, in dire need of more than a coat of paint. But rather like Western Australia itself, the stadium stands alone.
That may not be for much longer. Unless it can fund a proposed redevelopment with a block of luxury apartments, it may no longer stage big cricket matches; if it no longer stages big cricket matches the small ones may have to go as well.
Its reputation is built on being the fastest, bounciest, scariest pitch on earth. There have been some rousing contests there, not least when West Indies were in their pomp and their fast bowlers, from Andy Roberts to Curtly Ambrose via Malcolm Marshall, Michael Holding and Patrick Patterson, all enjoyed themselves.
That reputation has diminished slightly since its pomp during the 1980s and early 1990s but it seems about to be restored.
Christina Matthews, the Waca's chief executive, said: "We have a meeting on December 19 which looks at all the conditions that need to be in place for us to go ahead with our project before the World Cup next year [in Australia and New Zealand in February and March 2015]. We're a little bit short at the moment but sales have been going well since we started marketing again a few weeks ago."
Perth has been a boom town for the past 10 years, fuelled by huge sales of iron ore to China. The population has increased by almost a quarter. The Gardens development, the block of apartments overlooking the Waca (which was meant to pay for the revamp) has suffered from a slight downturn in the economy at the wrong time.
A former Australia women's international, Matthews added: "One of the great things is that it is a cricket-owned ground but, in terms of content, it makes it difficult. You want to be operating all year round for commercial reasons but also for the infrastructure, which needs to be operating all the time."
Aussie Rules was played at the Waca until 2000 when the two AFL teams moved to their own stadiums, leaving cricket to fight a lone battle.
Matthews hopes to secure an alliance with an AFL feeder league, the WA Football League. But cricket, unlike at other ovals, will remain the driving force.
The stadium was opened in 1895, with its first test in 1970 (a draw between Australia and England, with the tourists' opener Brian Luckhurst scoring the ground's first hundred).
Matthews is now under pressure in her own backyard. A new 60,000-seater stadium is being built in the Burswood area of the city and the Western Australia state government's sports minister, Terry Waldron, said this week that he expected all major cricket matches to be played there. It was not what Matthews wanted to hear but, as she pointed out, that is five years away and a lot can happen in five years.
- The Independent