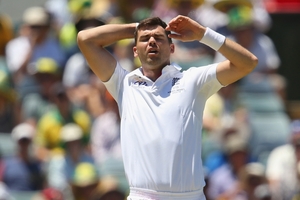 At the crunch, in all three Ashes tests, England have been found wanting. At Brisbane, Australia were 132 for six. At Adelaide, they were 174 for four and would have been 266 for six if Brad Haddin had been caught when five. Here, they were wobbling at 143 for five.
On all three occasions, Australia won the toss, batted first in conditions made for the purpose and gave several wickets away by over-aggressive shot selection. Then, Haddin found a steely ally and stopped England ramming home their advantage.
So, what have England lacked? When it happens once or twice, it can be dismissed as luck. Three in a row makes a pattern.
For a start, England have lacked a fast bowler to force the breach, after Australia's top-order batsmen had opened it by giving wickets away. On England's last visit, they won without an outright fast bowler but it was against the grain. In the normal course, England do not win in Australia except if they have a fast bowler or if Australian cricket is divided in a state of schism.
When Stuart Broad bounced out George Bailey to make it 143 for five, England were on top. But as the ball grew softer, there was no fast bowler to blast out the sixth-wicket pair of Steve Smith and Haddin before they had added 124 and turned the game in the hosts' favour.
Second, England have lacked a wrist-spinner to conjure a wicket out of nothing. They have never had one good enough to run amok in Australia, not since Bernard Bosanquet more than a century ago. Even a part-time wrist-spinner would do. Smith is mainly a batsman but he has taken the key wicket of Ian Bell three times, thanks to giving the ball a bigger rip than a finger-spinner.
Third, Australia's cricket culture has a tradition of the bowler busting a gut, of taking that crucial wicket before ending his spell. The great Dennis Lillee would not rest until he had broken a partnership or taken at least two wickets in an innings.
Australian first-class cricket has been essentially amateur, until 1977 and Kerry Packer, while county cricket has always been largely professional. If you were professional, you could not afford to bust a gut, because you would not play or get paid. "Tearing the arse" out of a quick bowler has always been a no-no in English cricket.
Anderson bowled a spell of 13 overs at the climax of the Trent Bridge test this July, which was a fantastic, match-winning effort. But it was an exception, and it took a lot out of him. He has not taken five wickets in an innings since.
When Broad dismissed Bailey, he was in the second over of a three-over spell. The heat on day one was tremendous but he was worth a couple more, with the series at stake.
That leads to the fourth ingredient that seems to be missing: collective hunger or desperation. Winning the Ashes three times in a row would be enough for most cricketers. It was for England in 1958-59, when they last toured here after winning three in a row.
The next time England tour Australia, they should aim to have a batsman who is also a part-time wrist-spinner. As for the collective hunger or desperation, it looks as though we can safely conclude that the next time England tour Australia, it will not be on the back of three Ashes wins in a row.
However, the England bowlers recovered somewhat yesterday - quickly wrapping up the innings with the last four wickets falling for only 59 runs after Australia resumed at 326 for six with Smith on 103 and Mitchell Johnson unbeaten on 39. Broad had Johnson caught behind and Anderson then snared two wickets, having Smith (111) caught behind and Ryan Harris (12) caught in the gully.
Cracks started opening up in the baking conditions at Perth, where temperatures approached 40 degrees Celsius and the ball started to move off the seam making it more awkward for the batsmen but late last night, England were 123 for two with skipper Alastair Cook on 60 not out and a stoic Kevin Pietersen on 8 not out after 47 balls.