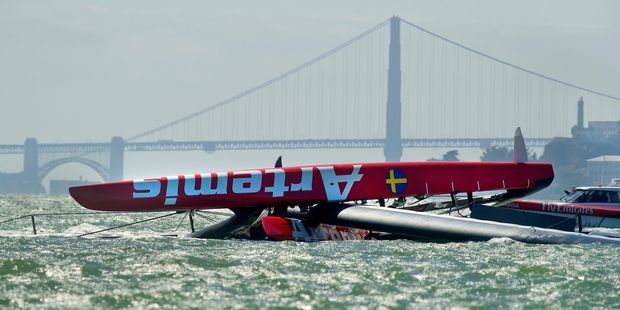 Nathan Outteridge and Iain Jensen say they have unfinished business as they plot to win the next America's Cup for fallen crewmate Andrew Simpson.
The Olympic sailing champions re-signed with Swedish outfit Artemis Racing this week after rejecting an approach from Australia's newly formed America's Cup team, led by wine baron Bob Oatley.
The Australian pair, who won gold at the London Games, said loyalty swayed their decision to join Artemis for the 35th America's Cup.
But a sense of unfinished business and a burning desire to win sport's oldest international trophy in honour of British double Olympic medallist Simpson was also a key factor.
Simpson drowned when Artemis' catamaran, helmed by Outteridge, capsized during a training session at the 34th America's Cup on San Francisco Bay in May. Simpson was 36.
There's no suggestion Outteridge was in any way to blame for the accident, which destroyed the high-tech AC72 catamaran that Simpson helped develop and stymied Artemis' chances of winning the event.
Outteridge said winning the next America's Cup would be a fitting tribute to Simpson, who won gold and silver Olympic medals with lifelong friend and Artemis skipper Iain Percy.
"Yeah definitely - that's a big part of it," said Outteridge.
Jensen added: "We went through a lot last time and to some extent there's a bit of unfinished business.
"I've got a lot of respect for Perce [Iain Percy] and how he handled the situation after losing his best friend. And he'll be leading us again."
Outteridge and Jensen insist they can juggle the twin tasks of defending their 49er class gold medal at the Rio Olympics while playing senior sailing and development roles for Artemis.
The Lake Macquarie duo made the best possible start to their Rio campaign last week, winning gold at the Sail Melbourne World Cup regatta.
Artemis has given its full blessing to the pair's Rio ambitions.
Their decision to rejoin Artemis means the pool of local talent available to Oatley's team is diminishing.
Cup champion Tom Slingsby has already re-signed with Oracle Team USA. Glenn Ashby is staying with Emirates Team Zealand. Oracle skipper Jimmy Spithill has not said which team he'll compete for in 2017.
- AAP