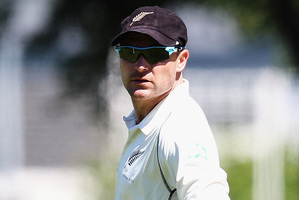 "Yeah, it's all right when you win."
So said Brendon McCullum after yesterday's remarkable victory over the West Indies.
It's a line he hasn't been able to use until yesterday. Because until yesterday he'd only known parity or defeat in 10 tests as New Zealand skipper.
So McCullum, whose appearance at his post-match press conference suggested an understandable blend of tiredness, quiet pleasure and relief, might have briefly felt inclined to offer himself a rousing pat on the back.
He has, after all, been the focal point for what has been a difficult year.
Instead he rightly talked only of his team, their guts, their honesty, their unflinching determination to keep pressing, knowing their day would come.
When it did, it was all rather rushed.
Sixteen West Indian wickets fell, courtesy primarily of Trent Boult, Tim Southee and Neil Wagner, and New Zealand could have been forgiven for pinching themselves when last man Shannon Gabriel was bowled, confirming the win.
The West Indies folded lamely, a huge disappointment after their grit in the second innings at Dunedin.
Captain Darren Sammy, who bagged a pair in this test, cut a sad figure last night. But he offered warm congratulations to McCullum and Boult after his press conference. New Zealand had bowled, batted and fielded far better than the tourists. They were well worth the win, and the size of it.
During the last 10 tests, McCullum has felt the criticism directed at his team's inability both at times to compete, and at others to press winning opportunities across the line.
He admitted he has felt the arrows keenly, but also acknowledged it has been warranted on occasions.
The previous New Zealand test win was in November last year, the final match of Ross Taylor's reign.
No one needs reminding of what followed.
In the last two tests, McCullum has removed a couple of personal burdens.
In Dunedin last week he hit a century to respond to those wondering when his next substantial contribution with the bat would come.
Now the business of test victories has been fixed. The challenge now is to make sure it's no one-off.
Hamilton next week is the first chance to do that.
Not since 2005-06, against the same opponents, have New Zealand gone into the final test of a home series - excluding Zimbabwe and Bangladesh - with their nose in front and the chance for a series victory.
Nine series have passed since.
The bowlers have also given themselves an extra couple of days to rest up after two demanding tests.
New Zealand will have celebrated last night. So they should. Success should be savoured, then it's back to work.