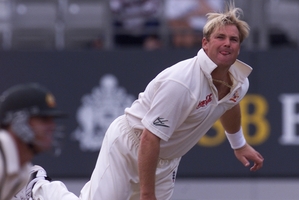 Ish Sodhi's development as a spin bowler will get a significant boost this month.
The New Zealand legspinner will spend a couple of days in Melbourne talking spin bowling with Australian great Shane Warne.
The trip was organised by Northern Districts chief executive Peter Roach, who knows Warne from his days as a Victorian first-class player from the mid-1990s.
Sodhi, who played his fourth test against the West Indies in Wellington, admits Warne was a hero growing up and he'll aim to be a sponge when they get together.
"I'd like to do a bit of bowling under his eyes but the main thing is cricket talk and what he can offer in that regard because he's got one of the greatest cricket brains of all time. It would be rude not to be able to pick it," Sodhi said.
Once this test series is over, Sodhi will have a think about what he wants to discuss with the Australian, rated the greatest spin bowler of all time. The 21-year-old has had a rapid rise to the national side and knows there's much to learn.
"Right now I've got way too many questions I'll ask him, so I'll have to narrow it down."
Sodhi's chief memory of watching Warne in action was the 2005 Ashes in England, which the hosts won, but in which Warne took 40 wickets.
"Whether it was 100 for five or 500 for three he was still spinning the ball as hard as he possibly could and trying to get wickets.
"He never really shied away from a battle and that's what I really loved about him."
During the Big Bash League in Australia a couple of years ago, Warne was "miked up" and talked through how he would try to dismiss the batsmen as he delivered the ball.
"I stood up and gave him a slow clap in my living room," Sodhi said. "It was amazing and if you can pick that brain as a young spin bowler you're in pretty capable hands."
Sodhi is going to Melbourne on December 28 and returns two days later.