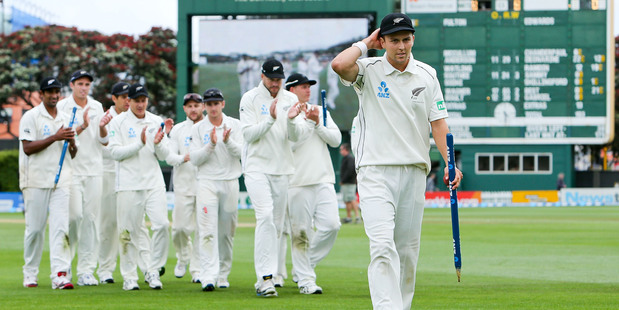 New Zealand's innings and 73-run win in the second cricket test against the West Indies was a comprehensive way to end a 10-test drought.
Their previous test win was over Sri Lanka in Colombo last November, which was Ross Taylor's last match in charge before being replaced by Brendon McCullum.

New Zealand take a 1-0 lead into the final test in Hamilton starting next Thursday, and West Indian captain Darren Sammy admitted his team are facing a substantial challenge to square the rubber.
"This test we barely faced 100 overs (104.4 overs over the two innings) which is not good for any international side," he said.
"The seamers have got to get the wickets and we've not been able to do that. We could learn a lot from New Zealand, but I believe we have what it takes to level the series."
The West Indies were shot out for 193 and 175, with left armer Trent Boult leading the rout.
The 24-year-old took 10 for 80 in the test, including career-best figures of six for 40 in the first innings. Boult ripped out four wickets in six balls on the third morning to set up the follow-on.
It is the third home test in succession when New Zealand have had the chance to enforce the follow on. It didn't work in the first test at Dunedin, but sticking to their plans of bowling a fuller length than the West Indian seamers worked to a tee at the Basin Reserve.
From 74 for one, the West Indies slumped to 94 for four and the end came quickly after tea.
"I guess after 10 tests the win was going to come at some point," New Zealand captain Brendon McCullum said.
"We said coming into this test that we just have to keep the faith, going through the processes and plans and keep working hard, and be better every day we turn up."
McCullum is expecting the West Indies to bounce back in Hamilton.
"They're a pretty stubborn unit and they'll respond strongly. That's what we have to expect.
"The way they held out for a draw in Dunedin is testament to their character as well, so from our point of view we know that we have to continue to play good cricket."
Sammy gave Boult a big rap for his performance.
"I think he was very consistent with his lines and lengths. He brought the batsman's technique into play which is what's required down here.
"He moved the ball both ways, he had an excellent spell. As a bowler that's the sort of day you want. Our batsmen probably played at some balls they could have left."
The West Indies seem sure to think hard about playing both spinners, Shane Shillingford and Sunil Narine at Hamilton's Seddon Park, irrespective of the pitch conditions.
The seamers have struggled to be effective, and with the series on the line it's time to be bold.
Boult said the ball had felt good coming out of his hand, and that was helped by bowling in favourable overhead conditions with a breeze at an encouraging angle.
"It was one of those days where things seemed to fall my way," he said.
"It's easily one of the best days I've had in test cricket, personally and from a team perspective, so it's nothing I'm going to forget in a hurry."