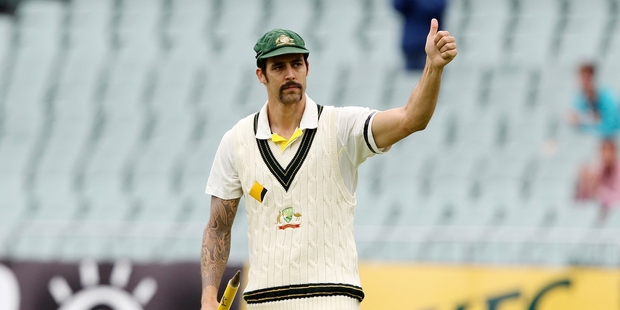 There will be two centurions in Perth tomorrow with Alastair Cook and Michael Clarke playing their 100th test.
Two fine players leading their countries in the most famous contest of all is about as good as it gets in cricket though one will be significantly more relaxed than the other, with Cook feeling the burdens of a captain two down in an Ashes series with chances to rectify matters running out.
England have won once in Perth since tests began there in 1970: in 1978-79, when Kerry Packer had tempted Australia's best players away to a richer life. Time and history seem to be against Cook turning matters around. Yet turn them around he must if England's Ashes ambitions are not to become dust, ready to be blown away by the Fremantle Doctor.
The first thing they must do is admit they have a Mitchell Johnson problem, confront it and work out solutions.
If there was any doubt as to their affliction, he has won the man-of-the-match award in each of Australia's last three Ashes wins, twice here and in Perth three years ago. If there has been a single force shaping those failures this is surely proof.
So far in this series, his pounding pace has destroyed confidence as well as techniques, leading to suggestions that some of England's batsmen are more than a little apprehensive about hanging around at his end too long.
But players drained of confidence do strange things which are often misinterpreted and it would be surprising if today's players, with all their protective gear, were scared for all the talk of it being in their eyes.
He has been fast and furious becoming that rare thing: a paceman who appears to have got quicker in his 30s.
The WACA is also his favourite ground. Last time he played England there he swung it sharply, which added to his lethality, something he has not really done in this series, yet.
England need to demoralise him and the only way to do that is to dry up his wickets, the tally this series standing at 17. In the second innings at Adelaide Joe Root then Matt Prior withstood his thunderbolts so he resorted to using his mouth more than his arm, taking one for 73. When frustration sets in he is prone to suffering its effects more than most.
Sound shot selection is also crucial, though that requires a clear mind, something not always easy after two heavy defeats. Perhaps the arrival of the wives and girlfriends will help to lend some perspective. After all, it was not that long ago that Johnson showed he was only too human with all the psychological frailty that entails.
The WACA, with its pace and bounce, tends to favour back-foot players, but England's batsmen must be sure not to miss out on making a good connection when the ball is full. Do that, avoid getting cramped for room by short balls, leave length balls outside off stump alone and steer clear of the hook and pull until past 50, and a "test" innings may begin to form.
England's bowling has competed on the first day of both tests, when the pitch is at its freshest, but not thereafter.
Brad Haddin has been their nemesis, making 94 at the Gabba and 118 in Adelaide, so a new plan for him is urgent. England must also take their chances; an obvious point even if antidotes to dropped catches are not, given they practise hard.
There is a theory that spin will be redundant at the WACA, suggesting England will play four seamers.
Graeme Swann took two wickets last time and Monty Panesar eight the time before that, but fast bowlers tend to shape matches there.
If you drop Swann and keep Panesar England will lose arguably their best slip, a key component if four pacemen are to strive on a bouncy pitch. But should England play a quick quartet do they go for solid Tim Bresnan or the tall potential of Boyd Rankin? Or does two down with three to go warrant risking someone such as Tymal Mills, young, raw, but capable of giving the Australians a taste of the Johnson medicine.
Quick fixes are rarely ideal, but Mills, in Perth with the England performance programme, would not be a gamble too far in a five-man attack, which is what England played here.
It is unlikely to happen as Andy Flower believes in logic and process and England need runs on the board after being bowled out for fewer than 200 three times out of four. Presumably, that is why Gary Ballance and Jonny Bairstow have been sent to Perth ahead of the team to play in a three-day match. Two down with three to play against a team you have just beaten 3-0 suggests something radical is needed from England if Australia's juggernaut is not to turn them into roadkill after just three tests.