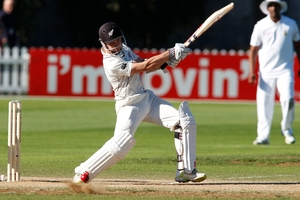 New Zealand will be wary of a resurgent West Indies side going into the second test at the Basin Reserve today.
They will know they let slip a wonderful opportunity to get their noses in front in the three-test rubber at Dunedin, that the West Indies have taken considerable heart after their staunch effort over the past two days.
Certainly their captain, Darren Sammy, was upbeat yesterday, hinting broadly that they'll take the same XI into the test.
He cited the example of young seamer Shannon Gabriel, who had a poor match in Dunedin.
The team culture was one of support, he said, so while Gabriel "looked a bit rusty, the chances are we will back him again to give him some confidence".
You sense the West Indies would really like to play their two quality spinners, Shane Shillingford and Sunil Narine, recognising that New Zealand batsmen collectively have their issues against good spin bowling.
One look at the Basin Reserve pitch put that notion to rest, however. Sammy pointed at the green carpet of the indoor centre yesterday, comparing it to the pitch.
"I don't think any of our guys will have played on a surface so green before."
New Zealand have put off confirming their team until this morning, the contentious point being the makeup of the three seamers.
Captain Brendon McCullum all but confirmed legspinner Ish Sodhi will play. Corey Anderson's left armers will give support, but on the frontline seamers he raised the old, and reasonable, argument that "if three can't get it done then whether four will".
So it'll be Neil Wagner retaining his place or Doug Bracewell coming in. Tim Southee and Trent Boult are certainties. All three from Dunedin have been nursed through the past three days after a heavy workload.
"They've been looked after pretty well, they didn't train yesterday and got to bat in the nets first today. The coaching staff are taking care of them," McCullum said.
Kane Williamson will return for Aaron Redmond at No3, having recovered from his fractured thumb, and he will add his useful offspin to the bowling mix.
However Tino Best, the liveliest of the West Indian fast bowlers, will fancy testing out Williamson's thumb.
There is one point about the pitch worth remembering. Sometimes they don't behave as your eyes tell you they should. McCullum talked of guarding against bowlers getting excited and losing sight of their strategies.
"Sometimes you can start searching a bit and see the ball fizzing through. While you're beating the bat you're not threatening the stumps. We'll be making sure we've still got the stumps in play."
If it's not one pressure point it's another for McCullum.
His impressive century in Dunedin sorted out the heat on his batting, but he bristled gently when the run of 10 winless tests was put to him yesterday.
It was more a glance to fine leg than a thunderous hook, but McCullum is clearly wearying at the year-long drought.
"I think you're under pressure every time you play for New Zealand.
"I guess now you can look for something else to put the pressure on. We're playing good cricket, wins will come at some point. It'd be nice if we had more support rather than this scrutiny but that's how it is attimes."
McCullum knows there's only one way to get that monkey off his, and the team's, back.