People who reach the top level of their chosen sporting code need talent, commitment and the capacity for hard work. So it's hardly surprising that some Kiwi families have produced more than one star over the years.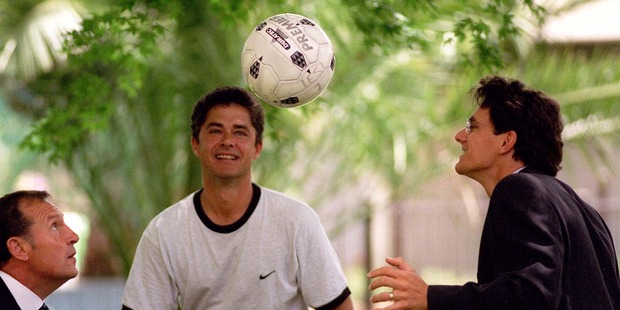 Rufers: Brothers Wynton and Shane, son Alex (all soccer)
It's the equivalent of having your debut album adorned with the moniker Springsteen, or being called Kubrick when making your maiden movie.
Signing your first professional contract with the name Rufer, for a footballer in New Zealand, does set certain expectations.
But Alex Rufer, son of Shane and nephew of Wynton, enjoys the responsibility of having the name of the Oceania player of the century on the back of his shirt.
The 17-year-old attacker signed a three-year contract with the Wellington Phoenix in August, after impressing enough while on trial at the club's school of excellence to warrant a professional deal.
Although he has yet to make an appearance - with his early-season preparations disrupted by a largely disappointing under-17 World Cup campaign with New Zealand - the most recent Rufer to rise to prominence is hardly lacking in confidence.
"Sooner, definitely," Alex replied when asked about playing first team football in the short- or long-term.
"For me personally, it's about improving every day and learning off the older, more experienced pros, then hopefully cracking into the match-day squad."
If Rufer ever requires any additional advice, he has a couple of experienced professionals he can call on.
Wynton's exploits are well-known: a 22-year career with eight professional clubs, a starring role for the All Whites at the 1982 World Cup, a European Cup Winners' Cup medal and a Bundesliga title with Werder Bremen. Shane also played professionally in Switzerland and earned eight caps for the All Whites, before coaching his brother at the Kingz.
"I've always loved football and it feels as if it's through our genes," Alex said. "I work really hard and just always having that to look up to - with my uncle playing for the All Whites and my dad, obviously, as well - it's something to strive towards and a good incentive."
Alex says that there was never any pressure to choose soccer with the two senior Rufers always offering support.
And while that surname could prove intimidating for some, Alex sees it as a challenge. "My uncle and my dad were good, but I want to be better."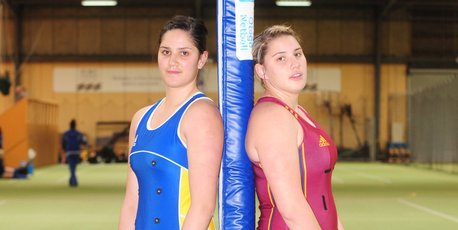 Selby-Rickits: Father Hud (rugby), daughters Te Huinga Reo and Te Paea (both netball)
Kids claiming their dad played for the All Blacks is a common fallacy on schoolgrounds around New Zealand. But for the Selby-Rickit sisters growing up in Otaki, the opposite was true.
"I knew he played rugby but I didn't know who for at all," said Silver Fern Te Huinga Reo Selby-Rickit. "It wasn't till we were at school when I was about 11 and one of our friends said he was an All Black, and me and my sister said he wasn't.
"Then when we got home, we asked him and he said he was, but I still didn't really believe him. I called my friends liars."
But her friends were speaking the truth. Hud Rickit played twice for New Zealand in 1981 and, with both appearances coming while wearing white against Scotland, the lock has the unusual distinction of being an All Black who never wore black.
Hud may have kept from his daughters his exploits with the oval ball, but he did pass down a sporting passion that still fills all five of his children. "I remember him at home always having a ball in his hands, always throwing it back and forth," Te Huinga Reo said.
"He would throw it at us and we had to be ready to catch it.
"We loved playing pretty much any sport we could when we were younger. It was always about passing and catching. He was a real stickler for never dropping the ball. We were always playing with balls or going out and playing any sport we could."
The other thing 2.01m Hud's children inherited was his height. Te Huinga Reo, a 24-year-old goal defence and goal keep, is 182.8 (6ft) tall, while 21-year-old Te Paea, a shooter for the Southern Steel, is even taller.
"It's definitely from my dad," Te Huinga Reo said. "My mum, we call her tiny, she is quite short.
"My elder sister [Miriama] is a bit shorter, too. She still plays NPC - the same NPC team as me - but she's a bit shorter and didn't get the same opportunities as me."
The girls' younger brothers, at 17 and 19, already tower over their sisters and both have followed their father into rugby, ensuring some friendly competition when at family get-togethers.
"When we are together it gets quite competitive, not really with netball but with other sports," Te Huinga Reo said.
"If we play anything else, like basketball, it's very competitive. No one wants to lose. We don't think we are, but we are very competitive. We do anything to win."
Adams: Sister Valerie (shot put) and brothers Steven, Warren and Ralph (all basketball)
At first glance, Valerie and Steven Adams seem like the ultimate sibling success story: a brother and sister, inspired by the achievements of their kin, spurred on to reach the top of their chosen sport.
In reality, each had little to do with the other's athletic career which, in a way, makes the feats of the Adams family even more remarkable.
With the pair - who have different mothers - separated in age by eight years, when Valerie was crowned world champion in shot put, Steven was wagging school in Rotorua and had few prospects for the future.
When Valerie won the gold medal at the Beijing Olympics a year later, Steven had barely taken his first steps in basketball, having moved to Wellington to live with "fairy godmother" Blossom Cameron.
It could almost be ascribed as coincidence that Steven eventually joined his sister on the world stage, being selected in the first round of this year's NBA Draft. But the siblings' diverse fields do share a requirement for size, one met courtesy of the genes of their father, a towering Englishman named Sid.
After settling in New Zealand following a stint serving in the Royal Navy, Sid had 18 children with five women, all of whom were blessed with height. The Adams men average 2.06m, while the women stand at an average of 1.83m. Valerie and Steven weren't the only members of the Adams clan to use that gift in an athletic pursuit, with Warren and Ralph having worn the Tall Blacks singlet.
In the late 1980s, they played in the New Zealand NBL against Jamie Dixon, the man who would eventually coach their youngest brother at the University of Pittsburgh. Dixon, among others, believed the older Adams brothers were good enough to play in the NBA, a fate Steven fulfilled in October thanks in large part to Warren.
Now in his 40s, Warren was the one who pulled the youngest Adams sibling out of a potentially destructive environment in Rotorua and set him on the path to basketball stardom. With Steven's schedule now containing a minimum of 82 games a year for the Oklahoma City Thunder, and with Valerie regularly training and competing overseas, the two most successful Adamses have minimal contact, limited during the NBA Draft to tweets of support. A Google image search returns no photos of the pair together, but Steven has said watching from afar as his big sister took Olympic gold did provide motivation as he eyed his own rise to the top.
"I was like, 'wow, that's my sister, hopefully I have like those genetics'. I just figured, why can't I do the same?"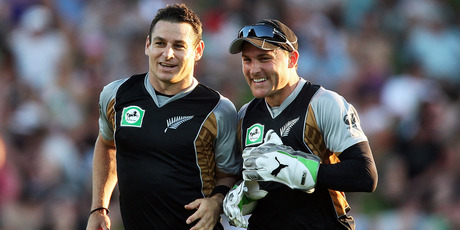 McCullums: Father Stu, sons Nathan and Brendon (cricket)
Like many Kiwi kids, the McCullum boys spent countless summer days playing backyard cricket.
The difference for Nathan and Brendon, though, was that their backyard could often be found beyond the boundary rope at an Otago game.
When Stu McCullum was playing his 75 first class games for the province between 1976-1991, his sons could regularly be seen on the banks of various venues in the Otago region, playing with mates and beginning their early cricket education.
"Just growing up, we were obviously around cricket a lot," Nathan said. "We constantly found ourselves down at trainings and in and around the games.
"We'd be going to support dad but also have our own little games on the sideline. We enjoyed it and got amongst it and continued the love of it from having it around us."
While Stu was an opening batsman who also kept wicket - roles his youngest son would eventually fill for the national team - Nathan said he and Brendon didn't restrict their imitations to their old man.
"I think I was probably every New Zealand cricket player at some stage during a game of backyard cricket, and I think Brendon was the same. You never really had an idea of exactly what you wanted to be as a player back then, it just sort of unfolded that way."
One thing that may appear ordained, given the environment in which they were raised, is the McCullums' eventual career path. Perhaps the heights the brothers reached were unexpected, but surely both boys were always destined to be cricketers?
Not so, according to Nathan. The elder McCullum brother revealed he was better at soccer than cricket, pursuing the summer game only when a career opportunity arose once he left school.
Brendon, too, could have forged a life in a number of sports. At King's High School in Dunedin, the Black Caps captain was known to play for the first XI soccer side and the first XV on the same day, while in sixth-form he was selected ahead of Dan Carter at first five-eighths for the South Island's secondary schools side.
"We always used to enjoy having a game of some sort, whether it be cricket, rugby or football, with some of our mates," Nathan said. "That was just the kind of people we were - we were always in and around sport and we loved sport."
That love his been passed to another generation of McCullums. Nathan's two boys, at 1 and 3, already illustrate that: "They absolutely love a cricket bat and love a golf club and a football as well."
And Brendon's 9-year-old son Riley has kept alive that McCullum tradition, having been spotted on television at New Zealand games, carting the bowling attack to all corners, raising his bat and hinting, perhaps, at history repeating.
Whitelocks: Grandfather Nelson Dalzell, brothers George, Adam, Sam and Luke (all rugby)
The Whitelocks, New Zealand rugby's renowned brotherhood, will be keeping it rural this festive season, much to the excitement of parents Braeden and Caroline.
All four boys - George, Adam, Sam and Luke - will be back on the family farm for Christmas and, in true Whitelock fashion, the pantry will be full in anticipation of their arrival.
"There'll be a big feed that night," says second-oldest Adam. "There were always two trolleys at the supermarket. The joke was they sent us to boarding school to save them a bit of money."
If Caroline's past antics are anything to go by, stories of her worming the boys and their girlfriends will be in full swing, too.
"There would always be a joke that mum would bring out a worming tablet. It was true, we all got wormed, but the girlfriend thing was there as a bit of a joke."
With George and Adam beginning their preseason training with the Crusaders, and Sam and Luke arriving home from All Blacks duty, there will much to discuss as the brothers finally enjoy some well-earned downtime. However, with the boys' competitiveness having progressed from the backyard to the rugby field, that downtime may may interrupted by contention for the Christmas roast.
"Normally, if there was a lamb roast, there were two and there was always a mad rush to the table to fight over the bone. But Luke, being the most spoilt, would normally get that," Adam says.
The competitive spirit began early in the Whitelock household. Adam recalls countless hours playing in the backyard and building huts down the back of the farm, an act that not only engaged them in healthy competition but led to the development of empathy and encouragement, forming the strong brotherly bond seen today.
"We're quite close in age and did a lot of things together. If we went for a run down the road back home, one would go off down the end of the road and then we'd try to run half a kilometre further.
"We always egged each other on and had someone to throw the ball around with, but we tried to help each other more than beat each other."
Unsurprisingly, sporting prowess runs in the family. Caroline's father, Nelson Dalzell, was an All Black in the 1950s, while her mother represented Canterbury at tennis. Adam says their time at Feilding High School helped them realise the genetic flow of sporting ability. Whether it was rugby, basketball or athletics, the Whitelock boys were always dominating.
"Dad ended up coaching the first XV and Sam, George and myself all played in the same first XV. But we had a hostel versus old boys game where the four of us all played and that was the first time we all took the field together." The competitive vibe remains strong in the Whitelock clan, extending away from the rugby field to marriage, with eldest brother George soon to be the first of the four brothers to tie the knot.
George, 27, is set to marry Black Sticks women's co-captain Kayla Sharland, adding another sporting link to the family.
"George's wedding is just after Christmas so that'll be another exciting thing around the corner," Adam says.
But Adam insists, just because George has to glam up in the immediate days following Christmas, it doesn't mean he'll be getting out of any chores back on the farm.
"We'll all be home on Christmas day and we'll all be in the milking shed to help out the farm workers."
Great sporting families of the past
The Hadlees
Walter played 11 tests for New Zealand between 1937-1951 before sons Dayle, Barry and, our greatest cricketer, Sir Richard, all followed in their father's footsteps.
The Crowes
Dave Crowe represented Canterbury and Wellington during a brief first-class career, while sons Jeff and Martin enjoyed distinguished careers for New Zealand. Rabbitohs owner Russell is a cousin.
The Kendalls
The only Kiwi brother and sister to win Olympic gold medals, Bruce took the boardsailing title in 1988 at Seoul before Barbara did likewise four years later in Barcelona.
The Goings
Sid played 29 tests for the All Blacks between 1967-1977 and brother Ken played three matches on the 1974 tour to Ireland. Sid's sons Jared and Milton and nephew Todd Miller all enjoyed successful rugby careers.