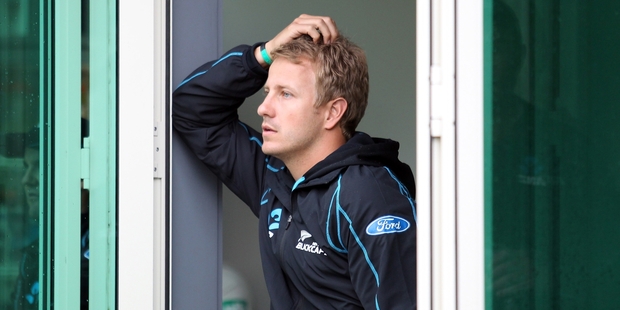 Spare a thought for Hamish Rutherford, Corey Anderson, Ish Sodhi and perhaps most of all Neil Wagner.
They are the four members of the New Zealand first test XI yet to have the opportunity to celebrate a test win. They should have at University Oval on Saturday.
While allrounder Anderson and legspinner Sodhi are novices to the test side, having played just three tests each, Rutherford has been there eight matches since England's tour of New Zealand early this year.
But Wagner has been there the longest, having played 10 tests without a win. And it may be the Otago left armer's name is up for discussion among the selectors before naming their side for the second test, starting at the Basin Reserve on Wednesday.
The Basin has one peculiarity to it; the odds on having five days without a decent old blow running down the ground are remote.
The forecast is suggesting northerlies, for much of the time. That means one of the bowlers will need to do plenty of toil into the breeze.
Given the talk around bowlers' workloads, and after having had to bowl for effectively eight successive sessions at Dunedin, coach Mike Hesson and fellow selector Bruce Edgar may want to juggle their resources, ie bring in Doug Bracewell for one of Wagner, Tim Southee or Trent Boult.
If they did, Wagner would be most vulnerable as Southee and Boult are seen as the new ball spearheads.
However unless there's a fitness issue, that would be a mistake. Bracewell has struggled to find his best form of late while Wagner is the sort who thrives on work and seems just the type to plug away in thankless causes. The Basin Reserve is well regarded as producing a pitch which will help the bowlers who are prepared to work hard, but is a friend to the batsmen as well.
Rotation is a policy not to be discarded out of hand, but this is New Zealand's best fast-medium trio, so, assuming there's no fitness issues, keep them intact for Wellington.