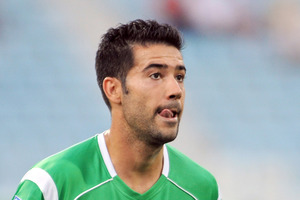 Former La Liga player Cristobal Marquez could be Auckland City's trump card in their game this Thursday in the Fifa Club World Cup in Morocco.
Marquez, who spent several seasons at Villareal and recently won almost $1 million in a court battle with a Ukrainian Premier League team, has been touted as the best attacking midfielder in the Auckland team's history.
There is a need for caution - the amateur ASB Premiership side will still be underdogs against Raja Casablanca, who will be cheered on by more than 45,000 fans in Morocco - but there is confidence Marquez could provide a point of difference.
His quality is unquestioned. Marquez spent four years at El Submarino Amarillo (the Yellow Submarine) between 2008 and 2011. He mainly played for the B side in the Segunda Division but made a handful of appearances for the top team. He counted Arsenal star Santi Cazorla and Real Madrid goalkeeper Diego Lopez as team-mates and played under current Manchester City manager Manuel Pellegrini.
"He is going to go one step up when we play in Morocco, he has that ability," Auckland City coach Ramon Tribulietx told the Herald on Sunday. "He has got that through ball that we unfortunately have never had before.
"He has the ability to turn [in midfield] and pick a pass between the back four. From the way I see the game, [he is] the best attacking midfielder in the club's history."
But how has a player of such pedigree ended up in the amateur ASB Premiership? It's part circumstance, part opportunity.
In July, Marquez took his former club FC Karpaty Lviv to court in a dispute over unpaid wages. He won 600,000 ($994,000)and became a free agent. Soon afterwards, Tribulietx, through his network of contacts across Europe, got in touch, offering the undeniable carrot of Fifa's club showpiece.
"A European player has usually only a very small chance to play in a Club World Cup," says Tribulietx. "He wants to play in the tournament - he wants to promote himself and it is a great signing for us."
Marquez is signed until the end of the current ASB Premiership but Tribulietx knows that, if the tournament goes well, the Spaniard may be targeted by professional clubs.
"It is a good opportunity ... in Ukraine, it wasn't a good season," says Marquez. "They didn't respect my contract and so I finished. I've come here to bring things to the team, I'm not an individual, I'm a collective player."
Marquez showed touches of class during last week's Super City derby win over Waitakere United. In one move he trapped the ball in an instant, feinted one way to beat one defender then delicately scooped a ball over another to release a team-mate. In another moment, he took a long pass directly on the volley, playing it to the feet of a striker over 30 metres away - causing one spectator to exclaim: "We don't usually see that around here.'
Marquez will be targeted against Casablanca but, if he can get time and space, he could make the most of City's rare attacking forays.
Former Waitakere United strikers Ryan De Vries and Roy Krishna offer genuine pace up front for the OFC champions while experienced Croatian age group international Mario Bilen is adapting well to his new defensive midfield role.
"It will be difficult but the dream is to get past the first round and then who knows," says Marquez. "We want to play well and show the world what we can do. It is possible ... we know we are underdogs but in one match we have a chance."