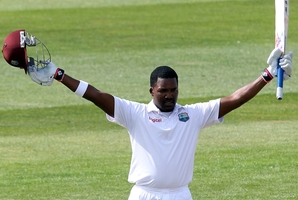 Sometimes the best way to judge the mood of a team comes at the end of a day's play.
So it was with the West Indies last night as they kicked a football about. Where over the last three days it has been a largely muted exercise, last night there was piles of exuberance.
It's not hard to work out why, after a day in which they acquitted themselves with plenty of grit and took what was shaping as an embarrassing four-day first test defeat into the fifth day.
New Zealand are still warmest of favourites, considering the West Indies are effectively 47 for six. But, inspired by Darren Bravo's terrific double century, they will feel far more confident going into the second and third tests.
And, who knows, if Bravo and captain Darren Sammy can get through the first session today, the concluding stages may yet be intriguing.
The West Indies will start at 443 for six, with Bravo on 210 and Sammy 44, their seventh wicket stand worth 80 so far.
"We're still on top but there's still a lot of hard work to do," said New Zealand spinner Ish Sodhi last night. "If we can knock a couple over early in the morning hopefully we [won't] have too many more to chase."
Sodhi, in his third test, had a long day, wheeling away exclusively from the northern end of University Oval for 28 overs, but it was a tiring day for the bowlers as the pitch steadily died.
New Zealand would have fancied their chances at the start of the day, but test wins aren't supposed to be easy and the most satisfying are those that are hard-won.
New Zealand got two wickets in the first session, including the key man, Shiv Chanderpaul. Travel adjustments were briefly contemplated until Bravo, with help from Narsingh Deonarine (122 runs for the fifth wicket), Denesh Ramdin (a 56-run partnership for the sixth) and Sammy, changed all that.
Bravo was magnificent. He had slices of luck along the way, a run out threatened to derail him at 76 and Neil Wagner spilling a return catch on 82 and there was the odd error outside off stump.
But he unfurled a stream of glorious shots, primarily through the offside and reminiscent of his cousin, the great Brian Lara. "That's very BCL," said a wise and experienced voice in the press box as he lashed one through the covers.
His 200 came with an edge past slip shortly before stumps. By the end he had batted for 9 hours 18 minutes, faced 404 balls and hit 30 fours.
"Just keep going," came the tweet from Lara at one point. He did.
Comparisons with his cousin are unfair, but Bravo, talented but yet to write his name in capital letters on the West Indian landscape, stood tall in his own right yesterday.
New Zealand would have made their job far easier had three catches not been spilled. Tim Southee, off a difficult return catch, and Brendon McCullum at short mid-off put chances down off Deonarine.
Sodhi did well, sticking to the one end, believing the direction of the small bit of breeze helped his drift.
Still, a handful of overs from the pavilion end, just to try it out, might have helped.
The seamers toiled hard but found Bravo in the mood to punish anything loose. In time this may come to be seen as a career-changer for the 24-year-old Trinidadian.
Near the end, Sammy speared a shot just wide of Southee at cover. That was soon after he'd banged Sodhi for two sixes in an over. He can't run, with a gluteal strain, but he hits the ball cleanly.
This was a day on which the West Indies grew in self-belief.