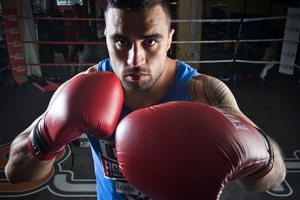 After the best season of his career, Liam Messam plans to wind down by fighting the rather compact and handy Paul Gallen in a boxing match.
Some wind-down. But this is Messam all over - he's distinctly uncomfortable in his comfort zone.
He's driven to an extent few realise. He needs to be - he's endured more disappointment than most and it's memories of his past that have fuelled him in the past 18 months.
He worries that if he doesn't keep pushing, asking more of himself, he'll slip off the cliff as he did many times in his earlier career.
First capped in 2008, he became the yo-yo All Black: dropped and publicly criticised in early 2009, he had two years as a bit part, before being axed from the World Cup squad on the eve of the tournament and then not initially selected last year.
Fate threw him what was most likely his last chance when injury struck and he was hauled in to start against Ireland in Hamilton last June.
He nailed it, won a reprieve and Messam has reached the end of 2013 as the undisputed best blindside flanker in the country.
He's made the No 6 All Black shirt his own with a consistency of performance many felt was beyond him. In South Africa this year he was world class. Tough, resilient, intimidating. Against England he was better again. On the same ground a year earlier, he looked jaded - a little lost in the face of such relentless physicality.
This time white jerseys came and white jerseys fell. There was not an inch of give in Messam, which is why he was named Maori player of the year and also selected, by his peers, in the International Rugby Players' Association World XV of the year.
"I believe my game grew. I put that down to the way the Chiefs wanted me to play and that folded into the All Blacks. What drives me to keep performing for the All Blacks is the disappointments I have suffered: missing out on teams and that sort of stuff. That pain motivates me and drives me to keep grinding and stay there. At the start of last year, I wasn't even in the frame to be in the All Blacks.
"I got the opportunity in Hamilton and I had that 'stuff it' attitude ... and got ripped into things and from there ... I probably thought that was it - having missed out on the World Cup team and then initial selection that year. I thought that was my All Black thing over."
It was, as it turned out, his All Black career just beginning. That performance against Ireland last year became his benchmark and he surpassed it in Johannesburg and London.
It hasn't been easy for him to gain the recognition he deserves: for his contribution to be fully appreciated. There is potential for Messam to be the neglected third child - the forgotten man of a superb loose trio. Big brother Richie McCaw can do no wrong. Now middle brother Kieran Read is the man of the hour.
But Messam's not in this game for external accolades. What mattered to him is that he felt he earned the respect of Read and McCaw.
"Just to be around those guys is awesome. You know those two are going to do their jobs - they are the two best players in the world - and I know that I have to go out there, perform, back them up and do my job.
"I want to earn respect by the way I play, week in, week out. Each week, I am not trying to prove anything but I am trying to gain the respect of all my teammates."
That respect will grow as a result of Messam being willing to get back in the ring.
Most of his peers will have a sun hat on the head, a beer in the hand and nothing more troublesome to worry about in the next few weeks than when to turn the sausages.
Messam will have protective head gear, boxing gloves and a volatile Australian looking to inflict some damage. Strangely, though, Messam wouldn't want it any other way.
"Boxing takes me out of my comfort zone. It's a good mental shift away from rugby and takes me out of the team environment.
"[I'm fighting] Big bad Paul Gallen. He's quite tough. He gave one of our Chiefs boys a bit of a towel up last year. I'm really looking forward to it. I know he's a pretty keen boxer as well. I don't know about that ... I keep getting hit in the head. I have always loved it. I remember watching Fight Night with my old man. The passion came from there."