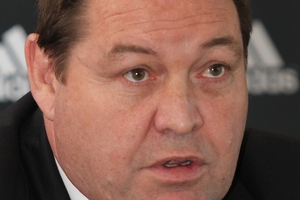 It's not too often that Steve Hansen hesitates. Serve him up some item about the All Blacks or an issue in the game and he will soon be in full voice.
Quiz him about himself and he is nowhere near as comfortable. Ask him what he has learned about himself since the All Blacks won the World Cup in 2011 and he dithers.
There are a few ums and aahs and he repeats the question before he starts.
"I learned that an open and honest approach with you blokes [media] has worked okay, I have learned that everyone's job is easy until you have to do it yourself," he says.
"I have learned I like it, I like doing it. It suits me. I enjoy the role more than I do being an assistant, but it is just a privilege to be part of a team. That hasn't changed and I am still excited by it.
"You get better at coaching the more experiences you have, and as long as you are open and flexible in your thinking you are going to benefit from those experiences."
Hansen is the boss, but he is prepared to delegate and filter the broad talents of his staff. He does his stint and works hard on allowing others to perform their roles.
Some of that coaching might be done in a meeting room or at the breakfast table. Most of Hansen's hands-on work is done at a Thursday session before a test or a drills session.
"The type of approach we take is that we debate things as a group and then whoever takes the session goes about that business," he said.

When he took the coaching baton from Graham Henry last year, Hansen was apprehensive. He'd thought about the job for some time, then decided he had to do it.
"The more you do it, you see you can cope and success also gives you more confidence. It is like a player, the more belief you have as a player you are prepared to try things."
Confidence was important, but it could also inhibit progress.
Changes had continued in the All Blacks with 12 new players used this season after nine last year. Sometimes alterations came because of form, others because of injury.
"I believe everyone gets the same good luck and bad luck as each other but it is about what you do with it and how you deal with it," Hansen said.
"We could take the attitude that it's a disaster if someone gets injured or we can decide that he is injured so let's see how another guy goes."
Hansen's off-season will be occupied by time with his extended family and his impending wedding to Tash Marshall.
"It will be time for my family. They make the sacrifices so it is important to give them my focus," he said.
He would meet Super 15 coaches next week to discuss the timing for the return of their All Blacks, sort out the season reviews by Christmas and then get ready for his downtime.
The All Black selectors would have some meetings about February to discuss their plans as they looked to the beginning of their next season with three tests against England in June.
They were on the lookout for hooking talent with the retirement of Andrew Hore, but felt they had adequate cover in most positions.
Some new players needed to push on while Conrad Smith would return to action and it would be fascinating to watch how Ma'a Nonu and Francis Saili shared their work at the Blues.
TJ Perenara was the only player who did not play in a test on the European tour, but it would not have been fair to put him on with the team in trouble against Ireland.
"That was my choice. Because of the extreme pressure, it was not the arena that was right for the team and right for the individual," Hansen said.
The aim was to win every test and the All Blacks met that expectation.
"It was pretty special. Did we play great rugby all year? No, but we did play some great games, and then to win the final game against Ireland after being out-played for most of it was something special too."