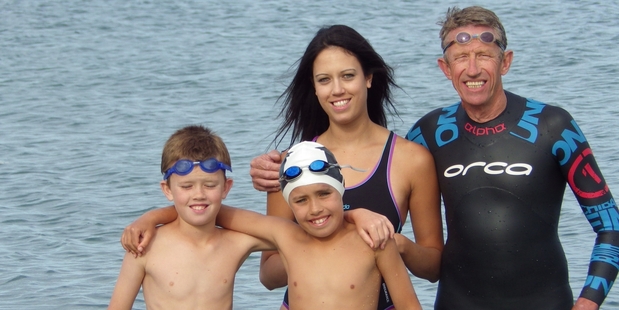 Today is going to be a special day for the Boughey-Castles family as they compete in the State Bay of Islands Classic.
Ten-year-old twins Jayden and Xavier Boughey, from Pakuranga, line up for the second event in the series and it will be a real family affair - spanning three generations.
Jayden, who is a keen swimmer, has nominated the 1km swim while Xavier has preferred to pace himself with the Kids 200m event.
Their mum, Helen Castles, a reporter for TVNZ, is going along with the 3.3km distance and will be joined by the boys' 65-year-old grandfather Pat Castles.
"It's pretty cool to have the whole family swimming together in one place," said Jayden who is looking forward to a fun family weekend in the Bay of Islands.
Organisers expect the twins and the family will be joined by around 850 other swimmers in the popular nationwide summer series.
Helen's husband, Phil Boughey, and her mother Margaret Castles, will also be there cheering the family on from the shoreline.
Helen, who was a competitive swimmer in her teens, was quick to acknowledge the encouragement and support she was given by her parents.
"Having my own children has made me appreciate, even more, all of those early morning trips my parents made to get me to swim training," she said.
"My Dad passed on his passion for swimming to me and he still inspires me today. Even a recent triple bypass didn't keep him out of the water for long."
Helen said that giving her kids the opportunity to experience swimming in the pool and the ocean was important to her.
"Sport in general is a real gift and one that I am committed to passing on to my children. It's great for kids to have the opportunity to take part in this series alongside other family members, with the State OceanKids events. The shorter distances build water confidence within a safe and positive environment."
Scott Rice, the event director of the State NZ Ocean Swim Series, said swimming was a unique sport in the fact the whole family can get involved.
"It's fantastic to see the growing number of family groups taking part in our series and making the most of the beautiful event locations around New Zealand," he said.
"Swimming is one of the few sports that can be enjoyed together by all age groups and all ability levels."
And the Boughey-Castles family should be easy to spot on race day. They will be among the minority of swimmers not wearing wetsuits.
"How cold is the water really?" Helen replied when asked about not wearing a wetsuit.
"We are in New Zealand, not Antarctica."
Ocean Swim Series
• Bay of Islands Classic, today
• Capital Classic, Wellington, Sunday, January 26
• La Grande Swim, Christchurch, Saturday, February 22
• Sand to Surf, Mt Maunganui, Saturday, March 22
• King of the Bays, North Shore, Saturday, April 12
• For more information or to register, go to oceanswim.co.nz