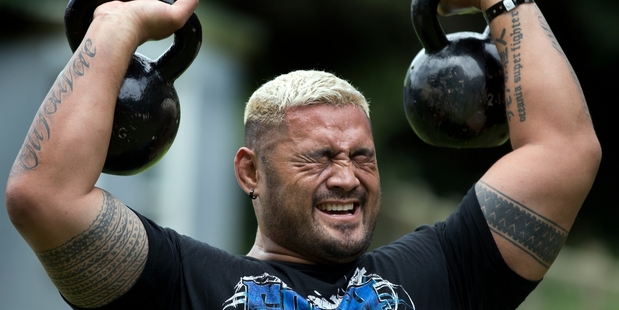 Mark Hunt has always been a striker.
His fists, feet and elbows are his tools that have seen him forge a career out of fighting for two decades but it's his recent wrestling and take-down defence improvements that have helped his mixed martial arts career in the past three years.
Given his kickboxing background, the 9-8 Hunt has a tendency to keep his MMA fights on his feet where his knockout power can be showcased.
"What they do with jiu-jitsu, you can control with a punch in the head in an MMA fight," said Hunt.
"That's what makes me Mark Hunt. I knock people out. I put people to sleep. That's my game-plan. I don't muck around. I ain't coming here to check someone out."
When the heavyweight brawler was on a six-fight losing streak between 2006-2010, five of his defeats came via submission because his defence against takedowns wasn't up to the mark, while his wrestling ability was also weak.
But the 39-year-old now holds a purple belt in Brazilian jiu-jitsu and spent his past training camp ahead of tomorrow's UFC Fight Night 33 showdown against Antonio "Bigfoot" Silva working with New Zealand's heavyweight freestyle wrestling champion Marcus Carney.
Steve Oliver, who has trained Hunt for the past decade and focuses on his ground game, holds a black belt in Brazilian jiu-jitsu and was a no-gi jiu-jitsu world champion in 2008.
Oliver said Hunt's improvement on the mat and his knack for blocking takedowns has made him a well-rounded fighter who is still showing improvement as he closes in on 40.
"You couldn't even put a gauge on it. It's night and day," Oliver said of the advances in Hunt's wrestling ability.
"I've been with Mark 10 years. When he first moved here I pretty much took him down 10 times in five minutes and takedowns weren't my specialty, I was a ground guy. I wrestled at high school but I wasn't world class."
Carney may be slightly biased given he is a self-confessed fan of Hunt but he spoke glowingly of the "Super Samoan" following their time together.
"He's such a strong guy and he's got such great cardiovascular fitness and he's very good," Carney said. "So my job was to try and take him down and he's very tough to take down and if he can keep the fight standing, I think he can knock out anyone in the world."
Hunt's improved wrestling and takedown defence has provided a crucial knock-on effect. Now that people can't take him down with ease they have to decide whether to stand and trade with him or risk trying to take the fight to the deck.
Hunt's knockout ability has never been questioned and his counter-punching prowess has been a feature during his recent fights where he knows his cinder-block-like jaw can take plenty of punishment before he strikes with his left hook or overhand right.
Three of his past four wins have been by knockout, while his third-round loss to Junior dos Santos at UFC 160 in May came down to the fact he met someone who could match him in pure boxing ability.
Thirteen of Silva's 18 wins in MMA have come via knockout and while he is the superior wrestler to Hunt with a black belt in Brazilian jiu-jitsu, if he wants to keep the fight standing it promises to be one heck of a five-round brawl in Brisbane tomorrow. APNZ