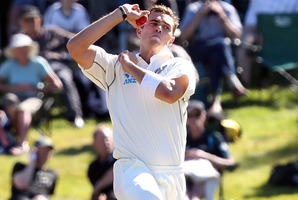 Trent Boult and Tim Southee shared seven West Indian first innings wickets to put the tourists on a slippery slope at University Oval yesterday.
There's nothing new in that. The Northern Districts' pair are becoming well established as the premier new ball combination and complement each other impressively.
Both have four wickets in the test so far. Southee has 87 altogether at 33.7; Boult 56 at 29.8 in tests. However three wickets were taken by a third ND bowler yesterday, legspinner Ish Sodhi, showing there's good reason to be excited at his emergence.
Certainly he took some lumps from the one West Indian to dominate the bowling in their first innings, Shiv Chanderpaul, which can be put down to the learning process.
He also delivered some dross along the way, half trackers and full tosses which the quick-footed took advantage of.
But he also bowled some beauties, one of which hurried on to opener Kirk Edwards late in the day to have him lbw when well set on 59.
"Credit the bowler, it was a good ball," Edwards admitted last night.
He liked what he saw from Sodhi.
"He has some good balls out of his hand. He probably would like to be a bit more consistent because he bowls you a bad ball.
"But he's just starting his career. With his captain behind him and New Zealand cricket behind him anything can come out of it. The balls he bowls - he'll definitely get wickets in test cricket."
Sodhi, playing his third test and first at home, finished with two for 63 off 15.1 overs in the West Indian first innings of 213 and will start today with one for 51 from 13 overs. In the course of the day he took three for 104 off 25.1 overs.
He rebounded from his Chanderpaul lesson impressively late in the day.
There was also a tidy googly to bowl tailender Shane Shillingford and he cleaned up the first innings tail having last man Shannon Gabriel lbw.
"He's a very good player and he's learning all the time, and he's not the only one Chanderpaul has taken to," Southee said.
"He will have a massive role to play tomorrow along with us seamers. He loves bowling and always wants to improve."
As for the Southee-Boult axis, they've played together a long time, through age groups for Northern Districts before graduating to the national side and know each other's games inside out.
"We're both swing bowlers and our natural lengths are a touch fuller and we make the batters play a bit more than someone like a [Tino] Best." There's no question which approach worked better.