Words of wisdom from Martin Crowe help former captain towards a double-ton.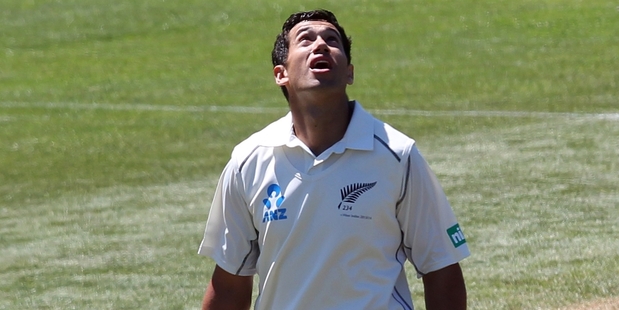 Martin Crowe has Ross Taylor's ear and spoke reassuring words into it before the opening test against the West Indies began.
Taylor talked of Crowe's importance to him as he goes about the business of locking himself in among New Zealand's finest batsmen.
So it was appropriate that Taylor's unbeaten 217 on the second day at University Oval should finish with his test average having bumped up to 45.36 - exactly the same as New Zealand's finest batsman.
In the course of his 8h 11min marathon, Taylor moved his average from a highly respectable 42.81 up past Andrew Jones (44.27), Glenn Turner (44.64) and Mark Richardson (44.77) to sit alongside his mentor and behind only lefthander John F. Reid of the 1980s among those with 30 or more test innings.
That has a certain symmetry to it, guiding hand and student sitting alongside each other in the statistics, albeit a 29-year-old pupil well ensconced as the current team's most proficient batsman.
By stumps New Zealand's 609 for nine declared had shut the West Indians out of the game.
Put a large part of that situation down to Taylor, whose last test century was 14 innings ago in Colombo, in his final test as captain. It was also New Zealand's most recent victory.
Now Taylor's innings has helped his successor, Brendon McCullum, take a giant stride towards ending a year-long drought of test wins on his watch. Not that Taylor would necessarily think of it like that. He will feel a deep satisfaction at a job well done.
He began yesterday on 101 and had a life at 131, when Kieran Powell dropped him at short leg off spinner Shane Shillingford.
He had to work through periods of the day when it wasn't quite flowing, but kept his mind on the job and was handsomely rewarded.
Neil Wagner was with him when he reached 200. "I jogged over to him and he was very calm and quiet. All he said was 'thanks for batting with me'," Wagner said. "I'm stoked for him, he's a class performer."
The richest praise came from West Indians' Tino Best. He almost had Taylor out for two and quipped that no one will remember that, "but as a bowler I remember that".
"The fellow is a class act," Best said.
"He's a very humble person and I've admired him for a long time. The last year or so he's been going through a tough period in New Zealand, but he showed a really good attitude and his concentration was immense."
Taylor, now with nine test hundreds - trailing only Crowe on 17, John Wright on 12 and Nathan Astle on 11 and level with Stephen Fleming - could have his best years ahead of him.
If so what chance mentor and student sitting together on 17 tons?
The sums
* Ross Taylor's 217 not out is the 12th highest score in a test by a New Zealander, he is the 13th to reach the milestone and it is the 17th double ton for New Zealand altogether.
* New Zealand's last double century maker was Brendon McCullum with 225 against India at Hyderabad in 2009.
* Taylor moved his test average to 45.36, identical to his mentor, the great Martin Crowe.
* Of those to have played a minimum of 30 test innings, only John F. Reid has a higher average than Taylor, at 46.28.