Rutherford and Fulton's first-wicket stats up with best.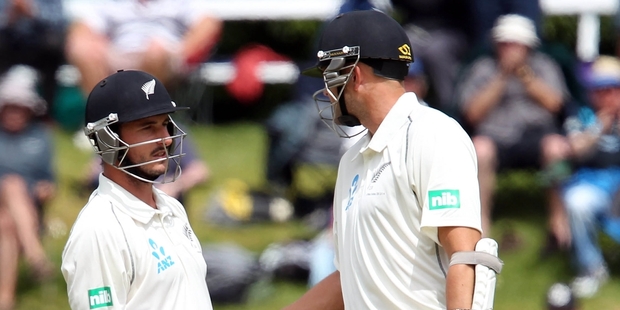 Peter Fulton enjoys batting with Hamish Rutherford and it's showing.
The pair have gone in first together in all eight of Rutherford's tests since his century on debut against England at University Oval last March. They have fashioned a distinctly handy record, averaging 45 for the first wicket.
That compares favourably with New Zealand's best, a list headed by John Wright and Trevor Franklin's 55.1 over their 28 innings opening together.

"We've had some good partnerships and it's something I've really enjoyed," Fulton said last night.
"It's good batting with Hamish, we get on well off the field as well and that makes it a little bit easier when you go out to bat knowing you get on well with the guy next to you."
There's no senior-junior element to the partnership either, even though 34-year-old Fulton has been around the game far longer than his lefthand mate, who is 10 years younger.
"It's probably 50-50 to be honest," he said.
"Some guys you bat with don't like to talk too much about the nuts and bolts stuff when you're out there. Hamish likes to talk a little bit about what the bowlers are doing, and so do I.
"At the same time we still keep it pretty relaxed. We're both reasonably laid back and I think that helps as opening batsmen. You've got to be a bit philosophical about it. Sometimes you do get good balls."
Fulton has had a strong personal year too, since his recall for the start of England's tour of New Zealand earlier in the year. He has hit 590 runs in 13 innings, at an average of 45.38.
England captain Alastair Cook has hit 762 runs from 21 innings but at only 36.28.
Fulton admitted he is "a bit of a stats guy", but wasn't aware of that.
"I've been enjoying opening for New Zealand and hopefully there's a few more runs to come."
Both batsmen made sixties yesterday and both probably regretted the shots they played to get out. However they laid the platform for what followed from Ross Taylor and Brendon McCullum.
Both like batting at University Oval too.
They are the only scorers of first-class double centuries on the ground - Fulton having made 221 not out for Canterbury in 2004; Rutherford hit 239 for Otago against Wellington in March last year.