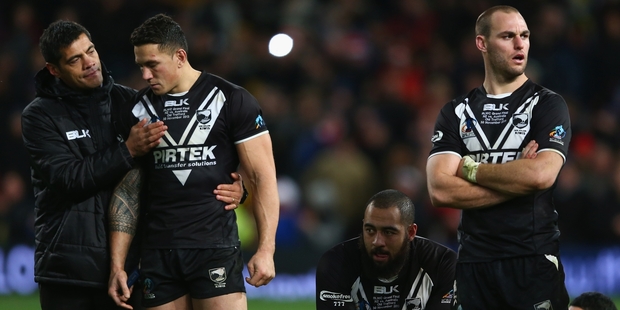 Stephen Kearney says he will take some time to think about whether he wants to continue as Kiwis coach in the aftermath of their heavy defeat to Australia in yesterday's league World Cup final.
Kearney told the Herald in June he wanted to continue beyond the World Cup, saying he didn't want to step away from the progress they had made and that the "journey is just beginning", but said yesterday he was undecided after his side's 34-2 defeat at Old Trafford.
"It is probably a bit raw for me at the moment," he said. "I will go home and have a good think about it, do a bit of reflecting. It has been five years at the helm, so I need to have a bit of a think and just see."
More Kiwis v Kangaroos coverage
Haka backfired on Kiwis
Even Sonny Bill couldn't stop the Kangaroos
Tuivasa Sheck leg injury upsets balance of team
Kiwis beaten by 'faultless' Kangaroos
Kearney took over in 2008 and, with the help of Wayne Bennett, soon orchestrated New Zealand's first world title but his side were comprehensively outplayed yesterday by a relentless Kangaroos outfit at the peak of their powers.
NZRL chief executive Phil Holden said a post World Cup review will take place.
"We will undertake a thorough review of all operational aspects of the Kiwis campaign which will include the coaching staff," Holden said.
"Steve is a key part of the structure. It's all pretty raw and emotional for him and I think he needs to take time to work through things."
The Kiwis have enjoyed some good success under Kearney's watch - they added the 2010 Four Nations title to the 2008 World Cup- but they have won only two games against Australia in that time and were poor in both the 2009 and 2011 Four Nations campaigns.
It's likely the NZRL will want Kearney, who is also Broncos assistant coach, to continue. At 41, he is still a young coach but with plenty of NRL experience, and there aren't many viable alternatives. He also has the overwhelming support of the players.
"I can't throw my support behind Steve enough," five-eighth and vice-captain Kieran Foran said. "I think he's done a tremendous job with the side. He shows support for his players and always gets the best out of them. He's the right man for the job to keep leading us forward."
Assistant coach Ivan Cleary said he was keen to be involved in the future if it fitted in with his club commitments with Penrith.
"I have loved being part of it and, if we can somehow work it out [with the Panthers], I would certainly welcome the opportunity if it came up again," Cleary said.
"Steve has been fantastic. He has been doing this for five years and they have had some great victories in that time. Australia have been the dominant force in rugby league for as long as I can remember and it hasn't changed and won't change in the near future.
"As a whole, I think the New Zealand team is getting closer. You need to remember there are some once-in-a-generation players in that Australian team and it's not always going to be that way. While it seems doom and gloom at the moment, in context, I actually think the gap is getting closer."
There was a big gap yesterday. Australia dominated from the outset and, apart from when Manu Vatuvei claimed a bomb and was held up just short of the line, the Kiwis didn't look like breaching a Kangaroos defence which has now gone five games, or 402 minutes, without conceding a try.
The Kiwis didn't play well, with too much one-out football, too many dropped balls and too many missed tackles and wayward kicks, but they also weren't allowed to.
"It was like they were holding us under the water and we just couldn't come up for air," Cleary said.
Kearney hopes his young side learn from the experience.
It's likely to be the last World Cup for a golden generation of Australian players who are mostly over 30, but a large proportion of the New Zealand squad should be around for some time.
"For them to sit there, feel the hurt and listen to the celebrations of Australia next door in the dressing room, they've got to feel that and understand that next time we find ourselves in that position, that Australian performance is what it's going to take to lift that trophy again," Kearney said.
"I know we've got a young side and a side that's developing and has a lot of potential, but it's important we make sure we learn and grow from this experience."