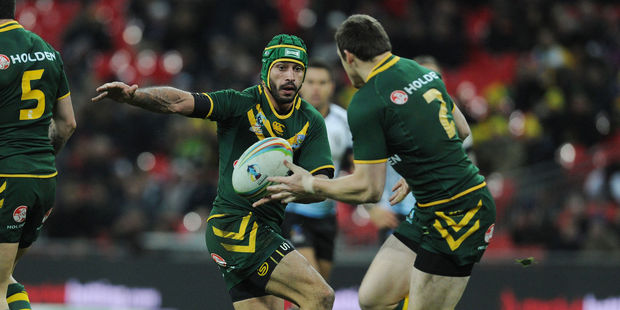 Australian five-eighth Johnathan Thurston has called for extra padding to be added to the advertising hoardings at Old Trafford in the hope of avoiding another serious injury in tomorrow morning's (NZT) World Cup final.
Manchester United's ground is purpose-built for football and the hoardings are very close to the playing surface. The in-goal areas are also very short - they are about 4m when most in the NRL are about 8-10m - and the pitch drops away sharply.
Australia lost second-rower Luke Lewis to a serious shoulder injury in their second pool game when he chased a kick into the in-goal area and crashed into hoardings. He was also knocked out.
Players from both sides inspected the in-goal areas during their final training session and Thurston hoped to see some changes before the final.
"Hopefully there's padding there for the boys who are going to score tries because, if there's not, we could see another incident like Luke Lewis, who did his shoulder, and that's not good for the game," he said.
"I'm sure the boys would be concerned.
"We are about to play the biggest game in our history and I hope there will be some safety precautions there."
It's unlikely padding will be added to the hoardings, given the money companies pay to advertise during games, meaning only thin rubber padding is likely to exist at the bottom of the hoardings.
Short in-goals are nothing new for this tournament and New Zealand's Sonny Bill Williams has been caught out twice, once when he slipped over the deadball line when going to place the ball down and the other when he narrowly avoided going out again when scoring a try.
It will affect a team's ability to keep the ball in the in-goal in the hope of forcing a repeat set or looking to score from kicks into the area.
Thurston also indicated the drop-offs on the side of the pitch could affect his approach for any sideline kicks at goal.
"There's not much room from the sideline to where the hill goes down so obviously I'm going to need to adjust my goal-kicking," he said. "We will come up with a plan for that.
"We have got a left-footed kicker in Cam [Smith] so maybe if we need to use him we will."
The Kiwis were also mindful of the closeness of the playing surface to the signage but captain Simon Mannering said he thought his players would put it out of their minds.
"The guys out on the wing will definitely be putting their bodies on the line going for the ball but I'm not too sure if it will change too much of what we are trying to do.
"We will probably forget about it once the game starts."
Two players who will come close to the hoardings are New Zealand wingers Roger Tuivasa-Sheck and Manu Vatuvei, who have both overcome their injuries and will start against Australia.
Kangaroos fullback Billy Slater is also running freely and is expected to take his place in the starting side after overcoming what had looked like a serious knee injury.
Despite the concerns about the extremities of the playing surface, both sides are excited about playing in an iconic venue and in front of a sold-out crowd of 74,000, which will be the biggest audience for an international game.
Kiwis assistant coach Ivan Cleary felt last week's visit to Wembley, another famous stadium, would help his side because their training run at Old Trafford felt "less like a school trip".
"It's a world-class venue with so much history," Thurston said. "To be able to be led out by Cam for a World Cup final, it gives me goosebumps just thinking about it."
- APNZ