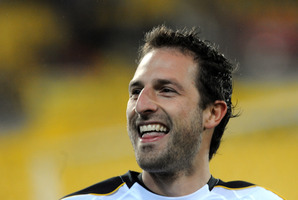 There's nothing like the comforts of home. The Wellington Phoenix have been soccer nomads for the past seven weeks as home-away-from-home games, road fixtures and a bye have dominated their schedule.
They haven't played at Westpac Stadium since round one when they were beaten 2-1 by the Brisbane Roar. When they line up tomorrow against the Western Sydney Wanderers it will mark 49 days since they last played at the Cake Tin.
Still searching for their first win of the season, Phoenix skipper Andrew Durante said there was no better place to do it than their home ground.
"The boys are just pumped to be back at home," Durante said. "It's been great to take the games away to Napier and Christchurch ... but it's not the same. We love playing at Westpac and hopefully it's a good result."
After a highly disjointed start to the A-League season with injuries, international commitments and a tricky schedule, Phoenix coach Ernie Merrick has finally had a fully fit squad to work with this week.
Merrick would never make the excuses public but it must have irked him having to juggle his side for the opening rounds of the campaign, while recently some players also missed training because they were sitting school and university exams.
Last week the Phoenix showed further promise as they went down 2-1 to a late Sydney FC goal across the Tasman and few teams have looked as enterprising as Wellington have while losing this year.
But professional sport is judged on the points table and not many remember the sides who gave their best but ultimately couldn't do the job.
"I think once you get the wins the pressure will be off everyone and everyone will start praising all the good things," Durante said. "But at the moment we are not winning so everyone's looking at the negative things that aren't happening."
Merrick has decided to rest left back Reece Caira for the game tomorrow with Manny Muscat likely to move from the midfield to defence.
Wellington will also be without the free-scoring Jeremy Brockie who has a slight hamstring tear, which should open the door for Paul Ifill or Kenny Cunningham to start.
Phoenix are languishing in ninth on the ladder while the Wanderers are sitting pretty in second place.
- APNZ