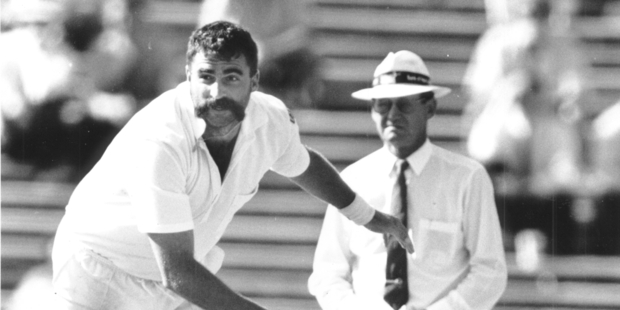 Sledging is like beer; it comes in various degrees of strength and flavour, but it's been around since WG Grace tied on his first pair of pads.
The quality varies as does the degree of ribald wit. Everyone talks about a fine line between acceptable and unacceptable, but no one really knows where that is. Families are supposed to be off limits, but at times anything goes.
Here are 10 of the most colourful exchanges during the war of words on the pitch ...
Eddo Brandes v Glenn McGrath
The Zimbabwe chicken farmer was a handy bowler, but a slouch with the bat. As he struggled to survive against Australia, noted verbaliser McGrath asked Brandes: "Eddo, why are you so fat?" Replied Brandes: "Because every time I make love to your wife, she gives me a biscuit."
Merv Hughes (1) v Graham Gooch
Hughes was working the England opening great over in a test before finally letting rip: "Would you like me to bowl a piano and see if you can play that."
Hughes (2) v Javed Miandad
One of the great tales. In a test in Australia, the chirpy Miandad was giving both barrels to the burly Hughes, including: "Merv, you are a big, fat bus conductor", and pushing his hand forward as if tooting a horn. On and on it went, until Hughes had the Pakistani great caught in the gully. As he ran past Miandad he flicked a hand out and said: "Tickets please."
Steve Waugh v Jamie Siddons
In a Sheffield Shield match Waugh was taking an age getting ready to face his first delivery. Finally Siddons, now Wellington's coach, had had enough. "For f ... sake mate it's not a test match!"
To which Waugh replied: "Of course it's not, you're here."
Ian Healy v Arjuna Ranatunga
The tubby Sri Lankan captain with a fondness for food was frustrating Australia's ploys to dismiss him in a match in Australia. Whereupon wicketkeeper Healy called out to bowler Shane Warne: "Put a Mars bar on a good length, that should do it."
Sachin Tendulkar v McGrath
In the early overs of a Champions Trophy match in Kenya, the Indian legend told Australia's ace pace bowler: "Today I will hit you out of the ground." As unsettling advice it worked: the usually parsimonious McGrath's nine overs cost 61 and India won by 20 runs.
Ravi Shastri v Mike Whitney
Whitney was 12th man in a test but fielding. Shastri looked for a quick single towards Whitney who grabbed the ball and shouted "if you leave the crease I'll break your f ... head". The Indian allrounder replied: "If you could play as well as you talk you wouldn't be 12th man."
Hughes (3) v Viv Richards
During a test in the Caribbean, Hughes stared at Richards after each ball for a while, but never uttering a word. Finally Richards said: "Don't you be staring at me, man. This is my island, my culture. And in my culture we just bowl." The big moustache bristled, and out came the reply: "In my culture, we just say f ... off."
Mark Waugh v James Ormond
A candidate for the best of the lot. When medium pacer Ormond came out for his only test against the Australians in 2001, Waugh welcomed him with: "What are you doing out here? You're too ... to play for England." To which Ormond replied: "Maybe so, but at least I'm the best player in my family."
Richards v Greg Thomas
The tall, rangy (occasional) England speedster beat Richards with several deliveries in a county match between Glamorgan and Somerset. Exasperated, Thomas grabbed the ball in mid-pitch, held it up, and told Richards "it's red and it's round. Now try and hit it." Richards stared back impassively, jaw rotating around his chewing gum. Next ball, as Thomas was still in his follow through, the ball sailed back over his head, out of the ground. Head down, hands on hips, Thomas felt Richards approach. "You know what it looks like, now go and find it."