Ian Chappell says the idea that sledging makes you tough is a `load of bollocks', but Broad says it will continue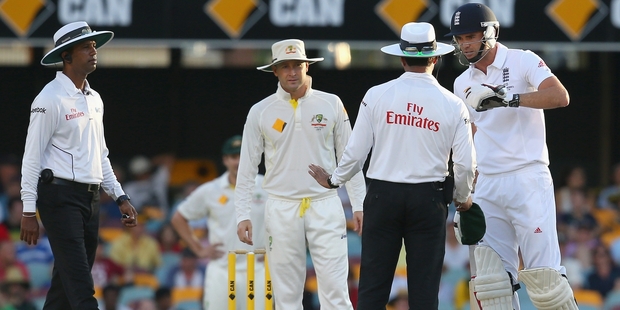 Somehow, England must start afresh. Having been dismantled by Australia, having lost one of their premier batsmen to stress, having been caught up in a sledging war, they must prepare in the Outback this week for the cauldron of the second test in Adelaide next week.
Whatever amendments they make to their plans it seems that they will not be taking a backward step. Stuart Broad, the man Australia loves to hate, made it plain yesterday the sledging would continue.
"Having grown up watching Ashes cricket and played in three Ashes series it is always tough and it is always a battle and you expect it to be a test of you," he said. "There is always banter flying out in the middle and I personally don't think it went too far this week.
"We know there is a huge contest going on in the middle between two countries but both sides respect each other as well and I don't think it went overboard. I expect it to continue to be competitive as all Ashes series are."
All the players involved seem to echo Broad's sentiments and Michael Clarke, Australia's captain, is generally considered to have been unlucky that his threatening comments towards Jimmy Anderson were picked up by a stump microphone. The International Cricket Council match referee, Jeff Crowe, felt forced to act and fined Clarke 20 per cent of his match fee.
But it seems that participants in these Ashes are at odds with one of the toughest men to have led Australia. Ian Chappell, by common consent as uncompromising a competitor as they come, warned that a physical confrontation was not far off.
"If the ICC don't stop all the chatter that's going on, the more chatter you allow the more chance that something personal will be said," Chappell claimed. "And something personal will be said at the wrong time and you'll have fisticuffs. I think we're getting close to the fisticuffs."
Chappell spoke out against sledging and supported Jimmy Anderson who threatened to punch the Australian short leg, George Bailey, in his second innings at The Gabba. "I was delighted that Jimmy pulled away and went over and spoke to George Bailey," said Chappell. "The only thing that disappointed me was that it took a No11 to stand up for his rights.
"As a batsman you are entitled to peace and quiet out there. I tell you, mate, I would not be putting up with the crap that's going on out there. The idea that it makes you a tough player if you've got plenty to say is the greatest load of bollocks I've heard in my life."
England returned to training yesterday after their sojourn to Uluru where six of the players saw sunset and sunrise over the red mountain in the desert which is of immense spiritual importance in Aboriginal culture. It was perfectly appropriate that England's players (and some of the press party) took the time to see such an important landmark as Broad pointed out.
"You're always going to get people saying you need to spend more time in the nets but we were flying here anyway and it was really good use of our time. It's a very peaceful place, it's a great place to relax and enjoy yourself on a tour that's so long in a great country like this."
England know they have to move on quickly from the shock departure from the tour of Jonathan Trott with a stress-related illness.
"The first thing to say is that the team are heartbroken Trotty's had to go home but were very supportive of him and we're on the end of a phone when he needs us," Broad said. "We all hope he gets home and gets some privacy and the help he needs with his recovery. He is a valuable and integral member of our team."
England have yet to conduct a debriefing after the overwhelming defeat by 381 runs at the Gabba. Perhaps some time in the tranquillity is lending a false sense of perspective but they appear convinced they have the fortitude to come back.
"There will be a lot of honesty because we know as players it wasn't good enough," Broad said. "To let ourselves down so badly on day two that is where we lost the test match. There was no coming back from that.
"There'll be some guys who know they didn't perform to the level expected of them in international cricket and will have to do better in Adelaide. With the experience in the changing room I'm sure there will be a better performance put in."
What they have to do is work out a plan to repel Mitchell Johnson and the Australian bouncer barrage in general. It is doubtful the match at Alice Springs will help in that regard but mental attunement is equally important now.
The Ashes
Dec 5-9: 2nd test, Adelaide
Dec 13-17: 3rd test, Perth
Dec 26-30: 4th test, Melbourne
Jan 3-7: 5th test, Sydney
- Independent