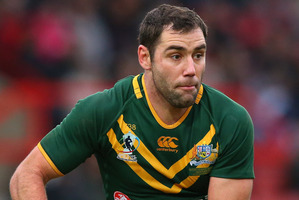 A scan through Cameron Smith's CV makes for impressive reading.
NRL premierships, multiple State of Origin series wins, Dally M medallist and Golden Boot award winner. He's widely regarded as among the best players in the game and certainly the best hooker.
But, and it's a very big but, Smith has never won the World Cup. At 30, Sunday morning's final against the Kiwis at Old Trafford might represent the Australian captain's last chance.
He's not alone. Australia have seven players aged over 30 and six more knocking on the milestone but none has won the World Cup.
The Kangaroos are considered one of the best teams ever with the likes of Billy Slater, Johnathan Thurston, Greg Inglis and Paul Gallen but that might take a hit if they lose on Sunday and it's inevitable there will be numerous changes to the side before the next World Cup in 2017.
Smith dismissed notions a defeat would ruin their legacy and also scotched suggestions it could be his last World Cup, citing Darren Lockyer and Petero Civoniceva as players who played well into their mid to late-30s.
"Guys might finish the game due to injury or they've had enough," he said. "At the moment, I'm still enjoying representing my country and still feel I have something to give to this team. Until I feel I can't or someone else feels I can't then that will be the day I finish.
"I think me and other guys like Gallen, Thurston and Billy it's an opportunity to win a World Cup. We don't look at it as our last opportunity and we don't see it as a chance to make up for 2008 because nothing will ever make up for that. New Zealand won that and will always be the champions.
"For me, when our careers come to an end, whenever that may be, we are not going to look back and judge it on one match. We would like to think we have done a fair few things over our careers ... that people can look back on. There's no doubt we would love to win. The Kiwi boys would love to win as well but, at the end of 80 minutes, there will be only one winner and hopefully that's us."
Australia have been ruthless over the past month, racking up 210 points for and only two against. They haven't conceded a try for 322 minutes and have been playing a deliberate style of football in an effort to prepare them for the final.
"The last four weeks, I know we have racked up a couple of big scorelines, has all been in preparation for this game," he said. "If you watched any of our games, you haven't seen too much flair or too many times when we have taken the easy option. We have always tried to go the hard way and played tough, simple footy because we know that's what it's going to take against the Kiwis."