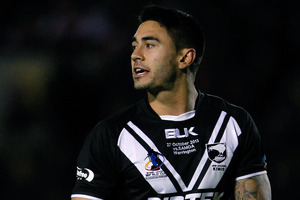 Shaun Johnson looms as the most important player for the Kiwis in Sunday morning's World Cup final.
He showed what he can do in the last minute of the dramatic win over England last weekend, stepping around Kevin Sinfield for the match-winning try, but it's what he does without the ball that is probably more critical.
Johnson comes from a touch background and it shows sometimes. He has some bad habits that take time to iron out. He needs to sharpen up defensively because you can be sure the Australians will target him.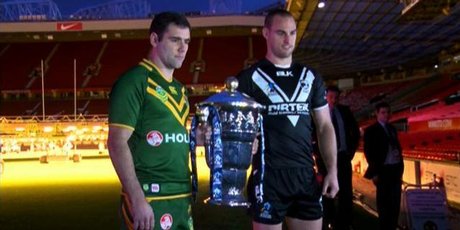 Greg Inglis is bound to sweep in around the left edge and he's hard to stop at the best of times.
Johnson knew after the England win he had some lapses defensively in that game.
He's still learning and he reminds me a lot of Benji Marshall when he came along. Marshall with time learned to compensate for his defensive frailties by becoming smarter about where he positioned himself.
There's no question Australia will send traffic at Johnson and New Zealand's right edge. Their set-pieces are quite simple but they send a number of decoy runners and have players in motion, which requires players to read the play. Johnson will need to be switched on.
He also needs to take more control on attack. I think there was an element of panic about how the team was directed around in the semifinal and the Kiwis need more direction and poise from their halves.
Kieran Foran was quite subdued in that match, which is very unlike him, but it sounds as if he recognised that and is ready to step up.
Actually, all of the New Zealand team need to sharpen up. They have to control what happens down the middle, the ruck, to have any chance against Australia.
The forwards were outplayed by England and they can't let that happen again. This is one area the Kiwis can dominate because Australia are nothing spectacular up front. They just have solid, 80-minute players who do their jobs really well.
You can't tell me Matt Scott and James Tamou are better than any of the New Zealand front-rowers. Those two have under-delivered all year and are still struggling.
The Kiwis have the size and strength to take it to Australia and then a player like Sonny Bill Williams to take advantage on the edge.
The critical thing is New Zealand have to play with vigour, desperation and control. It doesn't have to be the best game each individual has played, but they must do everything very well and certainly a lot better than they were against England.
The Kiwis are lucky to be in the final and that might take some of the pressure off, because this is the stage everyone expected them to get to.
The players know they have a second life and will look to take advantage of it.
I can't separate the two sides. New Zealand's forwards can win over Australia's but their backs and decision-making win over the Kiwis.
It's going to be great.