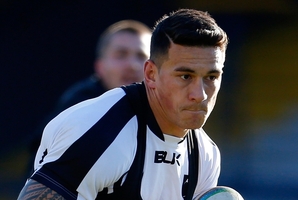 Sonny Bill Williams and 1960s American soul singer Otis Redding have little in common apart from a desperate need for respect.
Williams thinks he has regained that this year in league circles after walking out on the game more than five years ago.
The 28-year-old will always polarise public opinion but he has won the admiration of many in 2013 and yesterday was crowned the Rugby League International Federation Player of the Year.
He became the first Kiwi to pick up the honour since its inception in 2008 and broke an Australian stranglehold on the accolade.
After Williams briefly addressed the crowd at the gala event in Manchester, his Kiwis teammates performed a powerful haka that he admits nearly left him in tears.
"That was definitely the best part of the night," he said. "That's what I will miss when I retire; that feeling you get when you walk off that pitch knowing you have given your all but also knowing players respect you.
It's the best feeling in the world.
"I don't remember the last time I cried but I was definitely a little bit teary to see the brothers get up and show that respect for me.
"That means the world to me. All I want is respect. After the way I left the game [in 2008], I lost a lot of respect, but this year the way I tried to carry myself and get across the real me, I felt like I earned a lot. The biggest thing is earning the respect of my coaches and fellow players.
"That's why I was a little emotional. You don't get a haka done for you by the brothers for no reason if they don't respect you."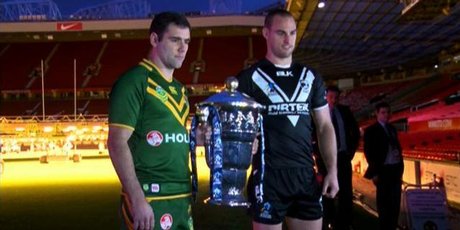 Williams' presence at the World Cup very nearly didn't happen. He initially turned down overtures to play, thinking he needed a break after a demanding season, but changed his mind less than 24 hours later.
It came at a cost, with the unfortunate Tohu Harris jettisoned to accommodate Williams, but he has repaid the Kiwis with his performances.
Last weekend against England he was immense. The Kiwis wouldn't have won without him and the toll on his body was obvious as he slowly shuffled out of Wembley and nursed his numerous scratches and bruises.
He said later it was the hardest match he had played in any code but immediately put his mind to doing it once more against Australia. It's what he reiterated after receiving the haka.
"I said straight afterwards, 'let's go boys, one more week'," he said.
"It's game-on this weekend. We can create something special but we have to show up and I know Australia will, too.
"I would give that award and every award back in a heartbeat just to get across the line this weekend."
If New Zealand do, Williams will become the first person to win the World Cup in both rugby and league. It would be a phenomenal achievement and cap off a remarkable year in which he was also honoured as the best second-rower of the year (Issac Luke topped Cameron Smith to be hooker of the year and Roger Tuivasa-Sheck was winger of the year).
It's quite incredible to think he was the best player in the world in 2013 even after five years away from the game. But Williams admitted it wasn't easy to make the transition back to the 13-man code.
"It was very tough," he said. "I didn't understand how much the game had changed coming back after playing in the backs with the pretty boys [in rugby]. Big Sammy [Burgess] and Issac Luke showed me the game had changed a lot physically. It took me a good month and a half.
"I was going in early before training to do extra sessions to get strong again to try to match it with these boys," he said.
"The best thing I have enjoyed is that I have fallen in love with rugby league again. When I first came back, I still felt like a rugby player but now I feel like I am back playing what I love playing and the way I have carried myself this year I have earned a lot of respect back.
"The biggest thing for me is I have found peace of mind as a man. I think that comes down to a lot things, my religion and keeping things simple, not getting too far ahead of myself. Thinking about what I have to do today rather than what's going to happen today or the next day.
"Simplicity is the key and it's worked for me."
Williams is a winner. He won Super Rugby championships, Bledisloe Cups, Tri Nations titles and a Rugby World Cup - he lost only once in 19 tests for the All Blacks - and this year added another NRL title to go with the one he won with the Bulldogs in 2004. He's also still undefeated as a professional boxer and holds the New Zealand heavyweight title.
But success with the Kiwis had eluded him. He played seven tests before switching to rugby but was never on the winning side.
Since his return, he has never lost. He faces his biggest challenge this weekend against Australia but it's also the biggest stage and that's a place Williams seems to relish.
He's desperate for the Kiwis to triumph but, win or lose, Williams seems content. He has what he wants the most - respect.
- APNZ