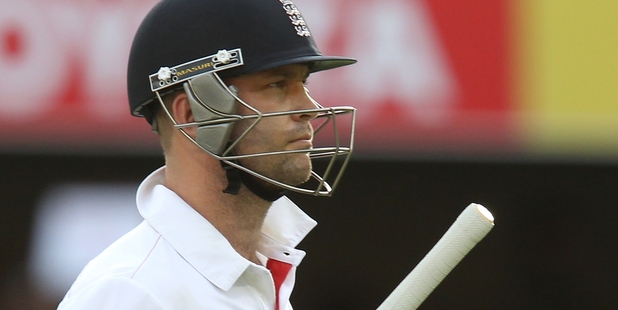 Andy Flower, the England team director, delivered a sustained attack on Australia's David Warner after it emerged that Jonathan Trott had returned home from the Ashes tour with a stress-related illness.
Flower and Trott decided on Saturday evening that the England batsman should leave Australia shortly after he had been dismissed for 10 in the second innings of England's crushing first test defeat at the Gabba.
Flower and the England team were incensed after Warner told a press conference Trott was "weak" and "scared" just as the decision was being made to send the batsman home.
While conceding neither Warner nor Cricket Australia could have known about Trott's illness when the comments were made, Flower said Warner had spoken from a position of ignorance, and also warned Australia that it would be irresponsible to refer to Trott's problems during the four remaining test matches.
"I think they were ill-advised, I think they were disrespectful," Flower said of Warner's comments.
"I think that competition on the field is fine and perfectly acceptable. But having players comment about fellow professionals on the international circuit is disrespectful and I think he overstepped the line there.
"We set out our own standards and they do theirs, but I would not be happy with one of our players making such comments. One of the reasons we don't like commenting on opposition players is that we don't know what is going on in their dressing room and we don't know what is going on in their private lives. And you don't want to speak from a position of ignorance."
Before the news emerged about Trott yesterday Warner admitted "he went too far" but said he had also sown doubt "in the back of [England's] minds".
Flower faces one of the biggest challenges of his career to rescue England's tour, which has veered into crisis after the 381-run first test defeat and the loss of a batsman who averages over 46 in test cricket. But despite growing hostility between the teams, Flower said Trott's condition should not be used as ammunition by Australia.
"It's a competitive environment with two proud nations trying to win an Ashes series," he said.
"That rivalry and that competitiveness is exciting. But we also have a responsibility to behave in a certain way, whether we like it or not. Our leaders must be role models for their own players. There are a lot of people watching the game.
"It must be played in a certain spirit and it must be competitive. Like most things in life, the right balance must be struck - all of us have that responsibility. I don't think [Trott] should be raised on the pitch, we're there to play cricket."
Flower revealed Trott had been suffering with his illness since his international career began in 2009, when he scored an Ashes century on debut at the Oval.
The England coach said Trott was not taking any medication and that he had been assessed before the tour by the party's medical staff and passed fit to play.
"I was first aware that Jonathan struggled with these things from our first contact as player and coach. He's been managing it from the start of the tour and there was no reason to suggest that this test should be any different," Flower said.
"This condition didn't pop up just before the first test. Just as if someone had a hamstring issue leading into the first test, it is our job to assess the likelihood of him being able to last the test or that hamstring not hampering his performance.
"In the same way with Trotty we believed that he would handle it as he always has handled it, very successfully, and that was the decision we made."
Trott, who arrived back in Britain yesterday, will now come under the care of the England and Wales Cricket Board and Professional Cricketers' Association welfare teams.
Trott, who is married with a young daughter, has talked in the past of how alcohol nearly ruined his career.
He has always been an intense character but possesses a dry sense of humour, which has come through on videos shot by teammates and put on social networking websites.
He is the third England player after Marcus Trescothick on the Ashes tour of 2006-07, and Mike Yardy at the 2011 World Cup, to return from an England trip with stress, although Flower rejected any suggestion that England had a bigger problem with stress and depression than other countries.