Kiwis' confidence rising as Cup defenders although Kangaroos have quality side.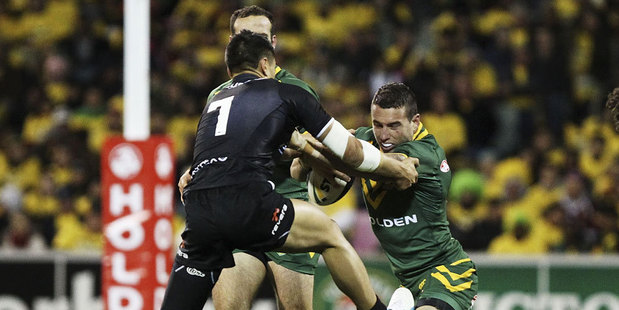 There are different theories within the Kiwis camp about where they might hold an advantage over Australia in this weekend's World Cup final.
One is that Australia might be a little under-cooked, given they have breezed through the last four weeks of the tournament following their opening-round win over England.
Since that 28-20 win at the Millennium Stadium that kicked off the tournament, Australia have won by a combined 210-2 and not conceded a try in 322 minutes. They were ruthless against Fiji last weekend, winning their semifinal 64-0, but they also haven't come under any pressure except in the opening 40 minutes against England.
New Zealand were staring at elimination last weekend before Shaun Johnson conjured a try with 20 seconds remaining to give the Kiwis a dramatic 20-18 win over England.
Most acknowledge they didn't deserve to win that match but, equally, have taken great confidence out of the fact they found a way to win a match they should have lost. Utility Elijah Taylor said it was one advantage they had over their rivals.
"We needed that game because, no disrespect to other teams, it was a huge step up from our previous games.
"To be feeling that type of pressure, fatigue and reliance on your teammates, that builds confidence and character. Going to an Old Trafford final, I believe we have a good chance."
The Kiwis will go in as defending champions but Australia will still be overwhelming favourites. Australian back-rower Greg Bird said coach Tim Sheens had brought up what played out in 2008 as a reminder of what can happen if they are off their game.
"The Kiwis have been strong the whole tournament and have rattled off some pretty big scores and one win in a pressure situation," Bird said. "I'm sure they will be coming off a high after that so we are definitely going to be up against it but we just have to keep doing what we have been doing."
Kiwis manager Tony Iro doesn't think Australia will be disadvantaged by an easier run.
"We have heard all the age-old arguments about the Australian players having played Origin together for years. They have played enough footy to know how to get up for one-off games.
"The quality of players in that team, and you only needed to see it in the semifinal, they know how to win football games.
"The advantage for us is that we have had a six-week preparation and had time to build some combinations as a team. We know they have combinations. We see it every year through Origin and the test series."
The New Zealand players also get to see them in action every weekend in the NRL.
"The players know Australia. It's probably a more comfortable game for us in that these boys are playing with and against them every week. The English were a little different. We don't get to see a lot of them playing.
"We have more knowledge of this side and know what they are capable of. All the NRL boys are well schooled by their clubs every week about what Thurston, Slater and Smith are going to do. In that regard, it's a little easier. However, the game is going to be a lot harder."
By the numbers
322
Australia haven't conceded a try in 322 minutes, or just over four games. It is the first time an Australian side has achieved that since Max Krilich captained the Kangaroos to six-straight clean sheets in 1981 and 82. Australia have scored 238 points and conceded 22 in their five matches. The Kiwis have scored 206 points and let in 56.
74
Shaun Johnson still leads the tournament with the most points at 74. This is made up of 29 successful kicks at goal and four tries. Australia's Johnathan Thurston is second with 60 points. Kangaroos winger Jarryd Hayne has scored the most tries, all of his nine coming in the last three games, while Kiwis winger Roger Tuivasa-Sheck is second with eight.
2
There is a two-year difference in the average age of both teams (New Zealand's is 25 and Australia's is 27) but the Kiwis have only one player over 30 (Frank Pritchard) while the Kangaroos have seven (Thurston, Smith, Slater, Gallen, Lewis, Tate, Parker) and another six aged 28 or 29. There isn't much of a difference, however, in terms of international experience with the Australians averaging 14.2 tests as opposed to New Zealand's 13.8.
- APNZ