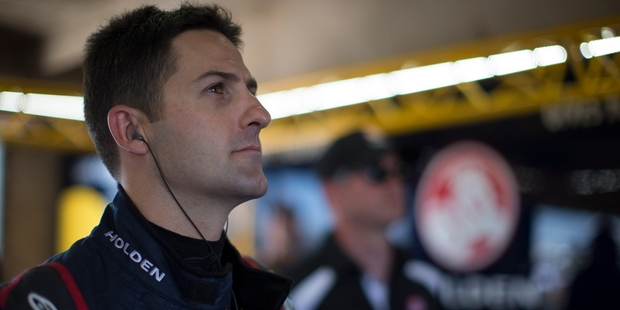 No team orders. No dirty tactics. Just clean, wheel-to-wheel action.
That's how Jamie Whincup expects - and perhaps hopes - the final V8 Supercars round of 2013 will play out in Sydney.
But if the carnage at Phillip Island last weekend is anything to go by, the streets of Olympic Park will be far from civil from December 6 to 8.
Series leader and defending champion Whincup (2815 points) faces a huge challenge from his Red Bull Racing Holden teammate Craig Lowndes, who sits a mere 20 points behind him in one of the closest championship finishes in V8s history.
Meanwhile, Ford rivals Mark Winterbottom (2691) and Will Davison (2592) retain some chance and could benefit from any major mishaps for the Holden pair.
"It's a crazy scenario, but that's sport," said defending champion Whincup.
"I'd absolutely love to be leading the championship by more than 20 points.
"It's not a nice feeling right now and it won't be a nice feeling for the next two weeks.
"I'll be working my absolute hardest in making sure I'm prepared as well as I possibly can for what could be the biggest win of my career."
Whincup is chasing a record-equalling fifth trophy, while 39-year-old Lowndes, on the opposite side of the team garage, is looking for his fourth but the first since 1999.
Few words were shared between the pair following their respective victories in Sunday's two races, but 30-year-old Whincup insists there is no tension.
"Our friendship's stronger than it's ever been, to be honest," he said. "I think we've done a good job getting into this position, where we're both championship contenders come the last event of the year.
"And I can't see that changing. I think we'll both continue to work together [for practice] on Friday and then we'll go out there and race."
The duel could provide either a dream or nightmare scenario for team boss Roland Dane, who will have to manage his star charges and the potential risk for catastrophe inside the Red Bull garage.
So who will be calling the shots if the situation gets hairy?
"There is nothing to talk about," he said when asked what, if any, team orders had been discussed.
"Team orders are illegal and it's very, very basic: the car that's leading on track gets priority in the pits and gets to call the strategy.
"The other car does the next best thing.
"Sometimes - and Sydney's one of them - both strategies can win the race.
"The second strategy's not really too much of a disadvantage.
"There's nothing to discuss. We both go out there, race hard and fair like we do every weekend."
With Winterbottom and Davison still within arm's reach of the 2013 title, and the likes of veteran Russell Ingall out to end his career as a fulltime V8s driver on a high, there will be plenty riding on the outcome of next month's two 250km races.
Yet Whincup, winless at the Sydney Olympic Park circuit, played down the possibility of dirty driving from his competitors.
"We're all fairly aware of the rules, the racing rules. So I'm expecting it to be a hard-fought battle but certainly a clean battle - there's no reason why it shouldn't be - right to the end." AAP