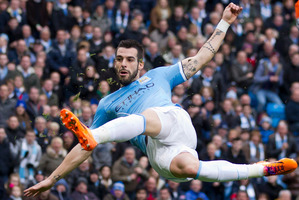 Vulnerable Tottenham cop shellacking as London club tumble to worst loss since 1996
Henry Winter
Alvaro Negredo's brilliant strike contributed to Manchester City's rout of Tottenham. Picture / AP
Tottenham Hotspur have kept the back-door shut for most of the season but here Manchester City picked the lock deftly and then smashed the door off its hinges for good measure. This was brutal from City, abject from Spurs. A 6-0 hiding.
Tottenham conceded as many goals in these embarrassing 90 minutes as they had in their previous 990 this Premier League season.
The scoreline does not lie. City's attacking was as quick, incisive and ruthless as Spurs' defending was feeble. Jesus Navas started and ended the rout, Sandro conceded an own goal, Sergio Aguero poached a double, and Alvaro Negredo added another against the north Londoners.
"Feed the beast", as the City fans sang, "and he will score". And he scored a beauty: a brilliant turn and powerful finish.
Under Manuel Pellegrini, City are averaging four goals a game.
City's manager wrote in his programme notes about having "scored three, five, and seven in our last three home games", adding that: "I'm pretty sure we'll not be able to continue that numerical sequence!"
His players seemed to take this as a challenge, scoring after 14 seconds, sensing Spurs vulnerability. If only they could solve the conundrum of their away form.
Aguero was wonderful, his darting movement and sudden change of gear and direction flummoxing Michael Dawson and Younes Kaboul. Samir Nasri, a twisting creative force, was unlucky not to score and followed Aguero in departing to a deserved standing ovation. Navas's pace particularly punished Jan Vertonghen's tendency to push up.
Alarm bells rang all along the Spurs' defensive line.
Towards the end, City fans were taunting the away section by making the Gareth Bale signature heart shape with their thumbs and index fingers, and singing a biting suggestion as to why he had left. "We're going to win 6-5," a defiant few chanted back.
When Howard Webb finally stopped the misery for Spurs, the unforgiving inquests began in earnest. It needs emphasising that few defences could have coped with Aguero and Negredo in this marauding mood but this was still shocking from Tottenham.
The statisticians revealed that this was their worst defeat since Ian Walker, Sol Campbell, Teddy Sheringham and company lost 7-1 at Newcastle United on December 28, 1996.
Such embarrassments as this were not anticipated when £107 million ($211 million) was invested over the northern summer.
When Spurs were defending so robustly before their visit to the Etihad, Roberto Soldado's travails in front of goal from open play were less of an issue.
They will be debated more forcefully now.
Spurs, who have not scored in three, need goals; Aguero has now struck 10 times in the league, more than Spurs have managed in total.
The £26 million Soldado cut a forlorn figure long before being taken off by Andre Villas-Boas. In mitigation, the service into him was limited.
More questions will be asked about Villas-Boas's open tactics, and about his purchases, but it needs highlighting that he is still bedding in a team, although he needs to decide on his preferred midfield and resist the constant rotations.
Emanuel Adebayor ran hard, even bringing a low save from Costel Pantilimon as City fans chanted: "Adebayor what's the score?"
It was updated in the final minute.
Jan Vertonghen misjudged James Milner's long ball, Navas did not, and a shot went flying past goalkeeper Hugo Lloris: 6-0. Spurs' back door was in splinters.