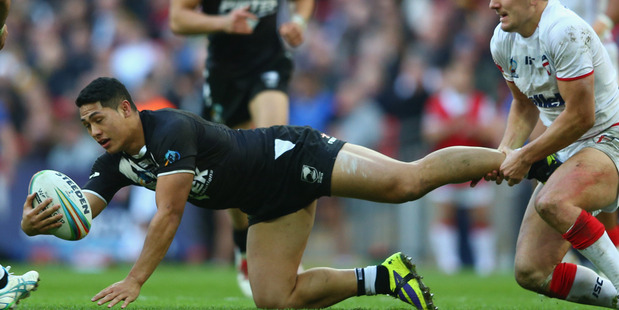 The Kiwis need most things to go right if they are to topple Australia in the World Cup final next weekend and the week started well with news Roger Tuivasa-Sheck has been cleared of a fractured leg.
The 20-year-old winger has been one of the stars of the tournament, and his eight tries puts him one behind Jarryd Hayne who has scored all of his points in Australia's last three games.
He took a knock to his right shin late in the dramatic 20-18 win over England and was in immediate discomfort but was able to complete the match. His lower leg was soon put into a moonboot, which required crutches, and New Zealand doctor Simon Mayhew was 50-50 on whether it was a fracture or not.
Tuivasa-Sheck had an x-ray overnight (NZT) which cleared him of any fracture but he will still need to prove his fitness to take the field against Australia.
"I will be all good," he confidently predicted immediately after the game.
"I still have a couple of days and I need to trust the doctor. They got me right for this game after I hurt my ribs [against Scotland] and hopefully they will get me right for the next one."
The Kiwis need Tuivasa-Sheck, who is an impressive youngster both on and off the field.
Not only can he dance his way around opposition and score spectacular tries in the corner but he is also safe under the high ball, strong defensively and rarely takes the wrong option.
He made one bad decision against England, when he lost possession after offloading close to his own line, but it's not likely to be a mistake he makes again.
Manu Vatuvei is making good progress from his groin strain and there is optimism he will be fit to play Australia but second-rower Frank Pritchard (hamstring) is still a concern. A number of others were very sore after a bruising match with England but the euphoria of their late win was a perfect healing tonic.
The Kiwis will relocate to Manchester tonight (NZT) in good spirits. They celebrated the win over England at the team hotel with friends and family in a low-key affair before a recovery session at a local swimming pool the following morning.
Utility Elijah Taylor is rooming with Tuivasa-Sheck and helped his teammate with his rehabilitation even though he was also banged up.
"Thankfully he's been cleared," Taylor said. "I was making sure I had the ice machine ready for him last night. He's my teammate. I will give him every chance to play this week because I think that's my responsibility. He's a great kid and I would love to have him on our team.
"The doctor was happy but Roger still heard something click and even the England players said they heard something. Hopefully he will be alright."
Tuivasa-Sheck scored a double against England, the first after a phenomenal piece of agility and skill by centre Dean Whare who flicked the ball back infield while in mid-air, and he now knows all about Wembley.
"I don't think they have ever played tennis here," he quipped after earlier in the week thinking Wembley was the famous tennis venue. "I loved it.
"It will be a dream to play in a World Cup final. It's a once-in-a-lifetime experience and hopefully I will be right for it."
He's wrong about it being his only chance, given his youth, but right now he's more worried about the second part of that statement.
- APNZ