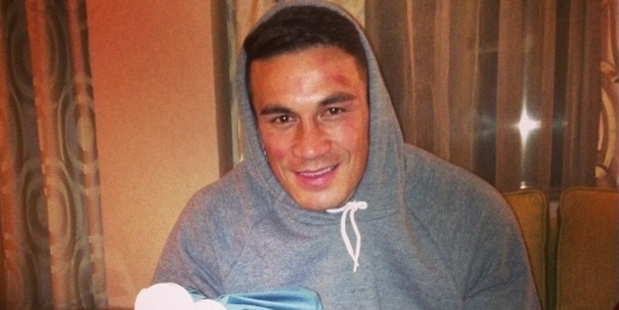 As Sonny Bill Williams emerged from the dressing room after New Zealand's epic win over England, the toll was obvious.
He shuffled along with a pronounced limp and was sporting cuts and scrapes all over his body. It was almost as though he had gone 12 rounds in the ring.
"It sure was," the New Zealand heavyweight champion said with a grin. "I don't think I've felt like that before on a footy field.
"Everything [hurts]. I've even got scratches on my face. I got given a bit out there, but I certainly gave a bit as well. It was an awesome game, a very physical game, but I enjoyed every minute of it."
Williams later tweeted an image of himself holding an ice-box with the words: "The aftermath of 40 tackles and 20 hit-ups in a brutal test match."
It was exactly the sort of feeling the 28-year-old didn't want to miss out on when he backtracked on his original decision to skip the World Cup.
He has talked about not wanting to have any regrets in his sporting career and he would certainly have regretted not playing in one of the best games in World Cup history.
Williams made the most metres (136m), tackles (38) and offloads (6) of an of the Kiwis and it's doubtful they would have won without him.
"Full credit to England, they were awesome, but to win competitions you need a bit of luck and you need some talent and I think we've got some talent," he said.
Yesterday's win means Williams still has a chance to become the first person to win both the rugby and rugby league world cups and it's something that will help him get over his numerous bumps and bruises.
- APNZ