Halfback puts on remarkable performance to convert his last-minute try and take Kiwis through to Cup final.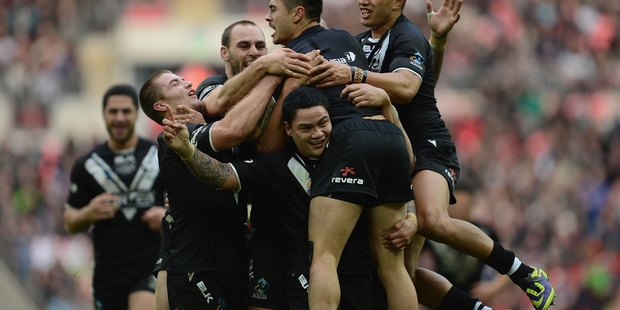 As a youngster growing up on the Hibiscus Coast, Shaun Johnson was like a lot of children who used to dream about scoring the winning try for his country on the biggest stage.
It probably went along the lines of stepping past a couple of defenders before diving over and being swamped by his delirious teammates.
It's exactly what happened yesterday morning as he scored with 20 seconds remaining in the World Cup semifinal and then landed the crucial conversion after the final hooter had sounded to hand the Kiwis a dramatic 20-18 victory over England.
His hands were shaking as he lined up the conversion and memories of his fluffed kick for the Warriors against the Roosters at Eden Park this year that would have taken the game into golden point resurfaced. He tried to approach it like any other kick, which it wasn't, before watching it sail between the uprights.
"It is a bit of a blur," he said. "It feels surreal at the moment ... just to see the looks on the boys' faces and see how much it means to all of us.
"That's probably the most pleasing thing about what happened in that last minute. I got the ball and was able to beat a couple of people and score a try, but seeing the boys' faces, that beats it all. I'm just stoked.
"I didn't think at all. I can remember going to that left edge because there was some space. We'd been attacking the right edge all night with Sonny. I looked up and saw they had three or four players covering half the field, so I drifted over there, got a pass and whatever happened, happened."
The Kiwis found themselves trailing 18-14 with time almost up but they had one more opportunity as they worked themselves close to the line. Frank-Paul Nu'uausala found himself at dummy-half after hooker Issac Luke was tackled close to the line and heaved out a loopy pass to Johnson about 15m away. The 23-year-old halfback beat the first defender who rushed up at him and then jinked his way through two more Englishmen before diving over in front of a shocked Wembley.
He returned to the dressing room to find countless messages of congratulations on his phone. "All of my friends and family. That makes it even more special, knowing how proud I've made my mum and dad and brother."
His father was among the 67,545-strong crowd at Wembley and the pair planned to have dinner together. They were bound to talk about that try but Johnson was mindful of other aspects of his game.
"I don't know if I'll replay that moment," he said. "It's the other little moments in the game. I'm usually pretty hard on myself and defensively I was well off, I let in a try, so that stuff will play in my head.
"But I've got some pretty cool people around me to enjoy the occasion and that's what I'll try to do."
It's bound to have prompted the next generation of youngsters to head out into the backyard as well.
Anatomy of a miracle
79:00: George Burgess cops Sonny Bill Williams with a high shot around the face and referee Ben Cummins blows a penalty 30m from the English line.
79:15: Isaac Luke takes a quick tap and wriggles his way forward before being brought to a halt 20m out.
79:25: A huge hit up from Frank-Paul Nu'uausala on tackle two puts the Kiwis seven out, directly in front of the posts.
79:30: With a massive lineup away to his right and numbers to burn to his left, Luke darts forth from dummy-half in what appears an ill-advised option. The hooker burrows his way to within a metre before being subdued by three English tacklers.
79:35: Nu'uausala, at dummy-half, throws a high, looping pass to his left, where Shaun Johnson is waiting about 15 out as the English line defence closes in.
79:36: Kevin Sinfield over-commits himself hoping for a possible intercept of Nuuausala's pass.
79:37: The Kiwis halfback steps to the left and cleanly around his man, before bursting into space near the 10m line.
79:38: As England's compact defence struggles to adjust, Johnson instinctively steps off his left foot. He uses the momentum of the covering Burgess to make him miss. He's now metres out without an Englishman in sight.
79:39: Johnson accelerates to the line and dives over for the match-leveller.
79:45: Cummins signals the try before almost being bowled over by Johnson's marauding teammates.
80:00: As the hooter sounds, Johnson places the ball about 20m in from touch and 15 from the line. He slots it straight down the middle.
- Kris Shannon