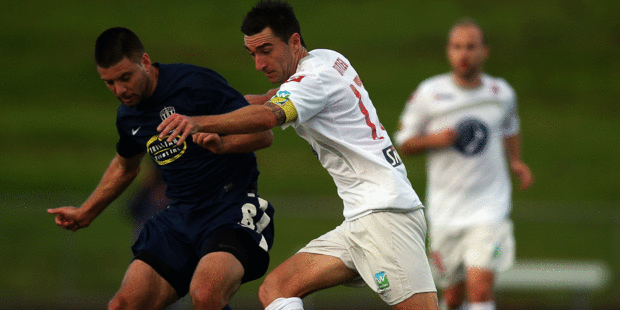 Defending champions Waitakere United have opened a slim lead atop the ASB Premiership after Auckland City were held to a draw today.
The crosstown rivals had both begun the new campaign with two wins but only Waitakere increased that tally this weekend.
Chasing their fifth straight title, Waitakere were too good for the third Auckland team in the competition, the North Shore-based Wanderers SC, easing past the youngsters 4-1 at Fred Taylor Park.
The shadow under-17 national team, playing in just their second ASB Premiership fixture, were unable to match their meritorious result from last week, when an injury-time equaliser secured a 2-2 draw with Canterbury.
Today they found the gulf against the champions too big to bridge, after two first-half strikes set Waitakere on their way. That both goals came from recent All Whites illustrated just what the teenagers were up against.
While as many as 10 of Wanderers' squad represented New Zealand at last month's Under-17 World Cup in the UAE, Jake Butler spent the last couple of weeks with the All Whites as they clashed with Mexico and Ian Hogg played for the senior side in World Cup qualifiers in March.
Hogg opened the scoring against Wanderers, finishing off a nice run from Tim Myers, before Butler found the perfect way to welcome himself back into the fold, applying a simple finish right before the break.
It was a youngster of Waitakere's own, 19-year-old Dylan Stansfield, who eventually made the points safe, before Scottish import Jordan Lowdon continued his excellent start to the season with his side's fourth.
Wanderers at least earned something for their troubles late on, with Stuart Holthusen scoring from the spot after being brought down, but it was Waitakere's day.
The west Aucklanders would have been boosted heading into the match after learning their rivals' luck ran out in Christchurch earlier in the afternoon.
Auckland had scored late goals to seal three points in their opening victories over Wellington and WaiBOP, but the Oceania champions couldn't repeat the dose against a Canterbury United side without a win this season.
It wasn't for lack of trying, though. After spending most the match bereft of serious chances, Auckland somehow failed to find the net in a frantic finale.
A combination of bad luck, poor finishing and Canterbury keeper Adam Highfield kept Auckland at bay and saw one of the competition favourites drop their first points of the season.
Auckland now sit only a point ahead of Hawkes Bay United, who followed their first-up win over Southern with a 2-0 victory over WaiBOP in Cambridge on Saturday.
The other match of the round saw Team Wellington dispatch Southern 3-1 and condemn the strugglers to a third straight defeat.
ASB Premiership round three results:
Saturday
John Kerkhof Park, Cambridge:
WaiBOP United 0 Hawkes Bay United 2
Sunday
ASB Football Park, Christchurch:
Canterbury United 0 Auckland City 0
Dave Farrington Park, Wellington:
Team Wellington 3 Southern United 1
Fred Taylor Park, Whenuapai:
Waitakere United 4 Wanderers SC 1
- APNZ